'We don't own our audience': OH from top publishing execs at Digiday Moguls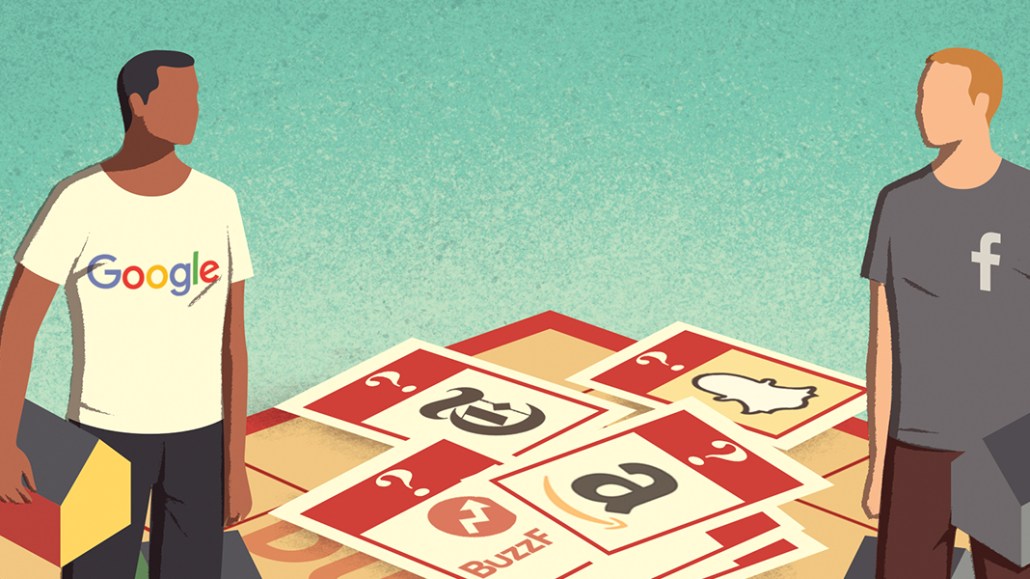 This week, in Vail, Colorado, Digiday has gathered together 25 C-level executives from top publishers to discuss the challenges confronting digital media. The leaders split into three working groups to address the promise and perils of platforms, how to go beyond ads, and how to build direct connections with audiences.
We held these meetings under Chatham House rules, agreeing that all discussions be on the record, only without attribution of names and companies. What follows are the candid thoughts these leaders shared during the first day of meetings. Needless to say, Google and Facebook are very much at the top of these leaders' minds.
Duopoly issues
"I'm 100 percent confident Facebook and Google are not our friends. They don't think like publishers. They don't value what we do."
"The mistake with algorithms is having something that works and leaving it alone. Every piece of content gets looked at once a month."
"It is virtually impossible to game Google. You can still game Facebook. Facebook is going to try to legislate against that. Facebook scares the crap out of me. We don't understand where they're going."
"Google tells you nothing ever. Nothing, nothing, nothing. They tell us to use their products. They'll never talk to you about how to rank better in their index."
"You've just got to look at the search results, and it gets scarier every day, with organic results below the fold."
"With short-form video, the metrics Facebook uses allows them to say they're better than YouTube. And everyone in this room can go to their bosses and say, 'Even though we're struggling, here's an opportunity to grow and here are the awesome metrics that show it.'"
"Facebook's core business is not to be in the business of content — they don't give a shit about that. They used to care about gaming — that was a line item in their S1 — but content hasn't shown up in any of their public documents. Their goal is to grow engagement on their platform."
"Instant Articles doesn't work for us. Where we get killed is the RPV. What Facebook doesn't let you do is use your own recirculation. You have to use theirs, and theirs is effing terrible. That's been the killer for a premium publisher."
Other platform issues
"[Pinterest] is so fucked up. They have no idea what's going on. What they're trying to be is visual search. They're not sophisticated and good with dealing with publishers. They're constantly apologizing because their product and tech teams aren't oriented to publishers. They're very Silicon Valley."
"I can't build a Snapchat studio for $10 million and see if it pans out. We spend a lot of time saying no to things. We spend our time on things we're very good at. We don't spend time on [Snapchat] at all. We're a fast follower. We don't want to be first."
Agency issues
"One of our largest ad clients said, 'I have a wedding next weekend. Can you take me for manis and pedis?'"
"Someone sent us 'Thanks so much for the four tickets to the Governor's Ball.' We just bought the tickets for them."
"Agencies are keeping client money, not paying publishers for 200 days, then using the float to fund operations."
Advertising issues
"It's insane that publishers say, 'It's OK for people to have ad-blockers on.' The amount of money you make on reinsertion goes way down, and you lose control over the inventory, and all those companies that do it are complicit with the ABPs of the world."
"People are not going to sit through a 30-second ad on their phones, and advertisers refuse to adapt. I'm hoping Facebook has the influence to force agencies to produce video ads that are appropriate for short-form content on phones."
Audience issues
"I get very suspicious when people talk about audience. On average, 11 percent of a site's audience drives 60-70 percent of the pageviews. The audience is really only the people who are truly aware of the brand."
"We don't own our audience. Lots of people own our audience. I can argue that I have a special relationship with them, but that's not necessarily true."
Subscription issues
"Right now, subscription indicates one product for all, rather than a highly personalized, service-oriented thing you're working hard to maintain."
"Loyalty is not necessarily there after purchase; it's earned after purchase. You're really only earning them as real loyal customers when they're up or they continue to subscribe because the value's been delivered."
"If you want a viable product that you can drive subscriptions for, you have to think about the thing that's going to get people to grab their credit cards beyond the ability to access exclusive content."