You can get the Retail Briefing delivered to your inbox every Monday, Wednesday and Friday. Subscribe here.
The openings of two new retail developments in New York City today indicate how the future of digital brands is taking shape in the shopping mall.
The retail and dining destination at Hudson Yards, where revolving art installations, restaurants, luxury outlets and larger-footprint stores, like Neiman Marcus's first New York City location, has its second story dedicated as a "Floor of Discovery," meant to drive visitors to startup brands that mostly exist only online.
The floor will storefronts from born-online brands like M.Gemi, Mack Weldon, b8ta, Rhone, Heidi Klein, Lovepop, Stance and Iris Nova, parent company of Dirty Lemon, which will be opening "The Drug Store," a cashierless drug store vending concept.
Other established brands, like Madewell, Muji and Uniqlo, will be experimenting with more experience-based store concepts in the retail space.
The 18-million-square-foot real estate development, open March 15 in New York City, is promising 65,000 visitors per day
Meanwhile, downtown in New York's Soho neighborhood, the new four-story retail store Showfields has partnered with Shopify to fill its retail space with online Shopify merchants.
Brands include Wild One, Hudson Wilder, Meso Goods, Coco and Breezy and Best Self Co.
Shopify, whose low-barrier e-commerce platform has contributed to the rise of the DTC brand boom, is now pushing into physical retail, acting as a backend bridge for online stores going offline for the first time.
Elsewhere in Showfields is a rotating selection of 30 startup brands in physical outposts, launching with Quip, Frank Body, PureWow and more.
The opening marks a new relationship between retail developers and brands. To get digital startup brands in the door — in many cases for their first permanent store, or at the first in New York — the real estate developers made accommodations. Leases were made to be more flexible to help the brands take on less risk, something that's becoming increasingly more commonplace as online brands eye physical spaces but bulge at 10-year agreements, a formerly standard lease term in retail real estate.
"Retail has needed to change, and brands that are popular online are forcing that change with temporary stores and leases that require flexibility. Landlords and developers are no longer in a place to turn that down, and if you need proof, look at Hudson Yards. The most massive retail development made adjustments to get digitally born brands on the floor," said Ken Morris, principal at consulting firm Boston Retail Partners. "They drive foot traffic, point blank. And malls need foot traffic."
In return, these brands get to have their storefronts do double-time as marketing efforts, getting their name and products in front of people who may not have seen them online, or needed real-life validation in order to shop them.
Expect to see these brands play a prominent role in the development of more high-profile retail destinations that are putting a modern spin on the shopping mall concept, or hoping to revive an existing mall's image. More is to come: TSX Broadway, an entertainment-shopping-dining development set to open in Times Square in 2021, will include 75,000 sq. ft. dedicated to retail space and a direct-to-consumer showcase meant to feature trendy Instagram brands IRL.
What all these new developments are trying to do is rebrand the mall, detaching it from the crusty department stores and Bath & Body Works that call to mind, instead prioritizing "interactive," "experiential" retail hubs. At the center of that strategy are the digital brands that have helped usher in new standards for retail experiences, and the new malls are popping up right as these brands are stalling for growth online and exploring offline strategies more seriously.
For existing mall developers, that's lighting a fire. Real estate developer Macerich has launched BrandBox, an in-house initiative to add retail space to Macerich-owned malls dedicated to offering a flexible and nimble backdrop for online brands.
"We wanted to get into the minds of digitally native brands. They're born online, and built their businesses off of digital media with great products, service, data and passion," said Kevin McKenzie, the evp and chief digital officer at Macerich. "We needed to get into that world, thinking about the store less as a traditional real estate play and more as an acquisition channel and a place to serve the customer." — Hilary Milnes
Opening night at Hudson Yards
The grand opening of Hudson Yards, held last night, is the closest the opening of a mall will ever get to being Coachella.
Thousands of people, wearing tuxedos and evening gowns and heels, streamed into the building, clogging its cavernous halls. Everything about the grand opening, and by extension, everything about the whole Hudson Yards retail experiment, is characterized by extreme maximalism.
There were dozens of open bars, windows with living human mannequins cycling through yoga poses in the window and a woman wearing a bikini just standing outside of the Vilebrequin and not even doing anything. There was a fountain in the food hall of pure vermouth. Some of the efforts towards making the grand opening feel like an "event" were so over-the-top they bordered on parody. You have to respect the decision to have different drum performances, a Japanese taiko performance and a breakdancing drumline group, happening at full volume less than 100 feet away from each other.
But underneath all of the excess was a hint of desperation. At about $20 billion, it cost a massive, almost comical, amount of money to build the Hudson Yards development, of which the shops and restaurants are just one part of a complex that includes residencies and office space. And while the crowd on opening night was so thick that the temporary shutdown of one escalator nearly caused a stampede, the real question is: Will any of the people in attendance turn into regular customers?
Without the draw of the opening night spectacle, Hudson Yards is essentially a mall — a huge mall with a relatively impressive combination of legacy brands and upstart DTC brands, but still just a mall complete with the requisite H&M, Zara and Verizon stores. Unlike a few of the other multi-brand retail spaces opening in competition, like Showfields, Hudson Yards is not built to have a rotating suite of brands cycled through. Most of the stores are permanent, and that means some of the excitement of new brands and stores to check out is lost.
Without novelty or a solid recurring customer base, no amount of breakdancing or champagne swilling can make something this ambitious sustainable. — Danny Parisi
Manfluence
There's a new report out from e-commerce platform Rakuten offering the latest insight on the state of influencer marketing through a global survey of 3,600 customers and 700 brands. In the report, brands surveyed said they were still ponying up cash for influencer campaigns and partnerships, but max spending has stabilized: brands reported a willingness to spend up to $32,000 on a campaign with a micro-influencer (under 30,000 followers) and $39,000 with a celebrity influencer (more than 500,000 followers). Engagement pays off.
But notably, the report showed that men are equal partakers in the world of online influence, although the fashion and beauty influencers often cited as leading the space are women targeting female consumers. Here's what Rakuten found, and why brands should be fitting men into their influencer marketing strategies.
Men engage more with influencers daily than women do, at 65 percent compared to 60 percent.
Men in all regions surveyed globally are more likely to recommend an influencer than women.
83 percent of men are inspired to make a purchase based on an influencer recommendation, not far behind women, at 89 percent.
YouTube is the platform where men are most likely to engage with influencers, and gamers are the most popular influencer category for men. Women are more active on Instagram.
Men spend more money on products recommended by influencers, with the price per item being higher than what women tend to spend per item, at $100 or more.
Resurrecting the Radio Shack approach
Target has set up a deal with electric toothbrush brand Quip that will set up recurring revenue from brushes sold in Target stores. When customers buy a Quip starter pack either online or in stores at Target, they receive a code to sign up for an online subscription. It's the only way to refill brush heads after the one in the start pack has worn it. But Target isn't just setting Quip up for the recurring subscription money, it's getting a cut of that too: Target will receive affiliate revenue on all subscriptions that are activated from that Target purchase code.
It's an unprecedented deal in DTC-wholesale retail, but it's not an old retail trick. Retailers that sell cell phones and set providers up with customer plans have received a cut of that recurring revenue for years.
"This kept RadioShack alive for years," retail analyst and writer Laura Heller wrote on Twitter.
This week in DTC
Mike Grillo, the CEO of Gravity Blankets, joined Digiday's Making Marketing podcast this week to discuss why he's not actually that much of a believer in direct-to-consumer as a business model, despite launching his own DTC business.
Launched on Kickstarter and spun out of the publisher Futurism, Gravity Blankets has hit $28 million in revenue and profitability, now selling on its own site, Amazon and in stores like Bed Bath & Beyond and Sharper Image.
"We were born DTC. But DTC is not a business model," said Grillo in conversation with Digiday's Shareen Pathak. "It's just a way to kick start your program. Ninety percent of shopping still happens in physical spaces. So the notion that you're going to build a scaled business solely on direct-to-consumer [models] especially if you haven't taken fundraising, which a lot of DTC's have, doesn't make a lot of sense to me. Owned and operated is still our biggest driver. We have a very healthy Amazon business. We're drop shipping e-commerce with every retailer you can think of like Target, Macy's, Bloomingdale's and others. We're really trying to diversify from a sales channel perspective."
Grillo told Digiday recently in a separate interview that Amazon, in particular, has been a powerful force, accounting for 15 percent of Gravity Blanket's total sales in 2018. Through a heavily promoted Cyber Monday promotion, the company pulled in low seven-figures in single-day sales.
Listen to the full episode here.
What we've covered
The negotiators: Target and DTC brands are coming to the table to figure out the best wholesale terms.
Slashing rates: Amazon is making new changes to a royalty program for content owners that upload videos directly into Prime Video.
Here comes the hybrid model: Not quite DTC, not quite wholesale, the shirt brand Grayson is launching somewhere in the middle.
https://digiday.com/?p=326116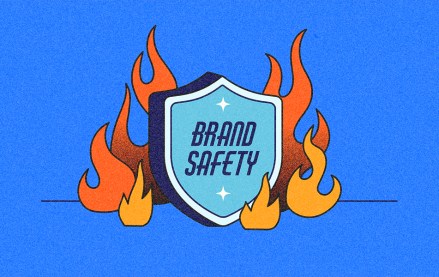 November 28, 2023 • 6 min read
"Major brands' search ads can appear on piracy, pornographic and sanctioned websites," research claims.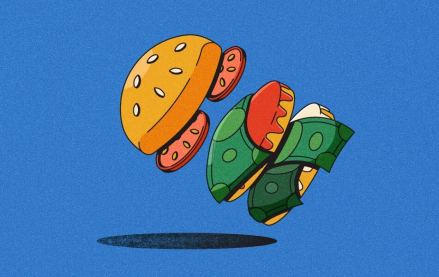 November 28, 2023 • 6 min read
As more influencers look to get into food content creation, brand opportunities are following.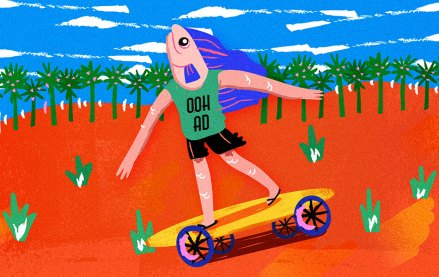 November 28, 2023 • 7 min read
As major marketers like Maybelline experiment with faux OOH, more marketers are open to the idea.