This article is from Pulse, Digiday's quarterly print magazine about the modernization of media. This is a peek at the second issue, which focuses on the current state of programmatic advertising — and how to fix ad tech. To receive the full 80-page issue and subscribe to a year of Pulse, visit pulse.digiday.com.
It was Christmas in Canada in 2001, and Farrah Bezner was taking the long route home when she stopped outside a Hallmark store window and stared at a display featuring mugs. For every mug you bought, you were given a free sachet of Tetley Tea on the house. The entire window was covered in Tetley Tea signage.
"Huh," said Bezner, who at the time was a brand assistant working on Kraft Heinz-owned brand Maxwell House Coffee. "Our sample is the same size as that tea sample."
It was an ah-ha moment that would go on to define the evolution of her career: By next Christmas, Tata-owned Tetley was gone, having been replaced by Maxwell at her urging. And her star was on the rise at Mondelēz International.
"It's a total Canada thing," said Bezner today, of her ability to do more with less. From a marketing perspective, Canada is a tiny market where small budgets and strapped resources are common.
Today, as head of new business ventures at Mondelez, her mission is to do what she did with Maxwell at scale: Take on small-time brands that have what marketers call "brand equity" but are otherwise neglected and grow them without taking on too many re-sources of the $23 billion company.
It's a tall order, but Bezner knows how to make do. When she was marketing director at Trident Gum from 2012 to 2013, she wanted to bring back to life an old, beloved campaign called "Pay me in Gum" but didn't have the budget. She literally paid the agency — Mischievious Studios — in gum to bring the campaign back. The creation and production of a commercial was paid in, specifically, Strawberry Citrus Trident Layers. During her tenure, Trident grew into the fastest growing gum brand on Twitter. Today, gum sales overall are disappointing in the U.S., analysts say, but both Trident and Dentyne continue to grow at Mondelez.
"Even less than $20,000 can turn into magic," she said.
She made similar magic next with Sour Patch Kids, where in 2014 she had a simple-sounding goal: make Sour Patch Kids, already well-loved if not ubiquitous, "famous." It started with a clear insight for Bezner. When people were asked what their favorite candy was, they'd rattle off a list of names. Snickers. Twizzlers. Skittles.
When they were asked a follow-up question about Sour Patch Kids, they said: "Oh, I love those." It was on Bezner to bring the candy to the front of mind of those people who already liked it. Instead of conducting expensive focus groups with these candy fans, though, Bezner did some creative Googling. Per Wikihow, a how-to site modeled after Wikipedia, famous people all shared three characteristics: uniqueness, a multidimensional personality and famous friends.
So that's what she did, all on the cheap.
Sour Patch Kids was one of the first candy brands on Snapchat to partner with an influencer, giving it that afore-mentioned "uniqueness." The candy brand partnered with storytelling platform Wattpad to get people to tell their "sour, then sweet" love stories, which added depth to it. And it recruited famous friends via The Patch, a home-away-from-home for up-and-coming musicians with locations in Hollywood, Austin and Brooklyn. The Patch offers musicians like Zella Day a recording studio and a place to crash in exchange for content. When bands upload tweets, videos or photos, they use a hashtag: #HollywoodPatch, #BrooklynPatch or #AustinPatch. At the time, it was revolutionary — an authentic way to engage with teens that didn't feel forced — and, most importantly, uncool.
It all paid off. Last year, Sour Patch Kids was the fastest-growing candy brand in the world, per Euromonitor. Gum and candy revenue alone increased 3 percent at Mondelez according to its last earnings — and it's led by Sour Patch.
"My work here is done," said Bezner.
Bezner still runs the Patch, but now says it's also time to turn her attention to her other "kids," as she calls her brands. Mondelez has seven billion-dollar brands: Cadbury, Cadbury Dairy Milk, Milka, LU, Nabisco, Oreo and Trident. But those don't interest Bezner. She likes the lower-profile well-loved brands — the likeable quiet kid that may not be as cool as the others — like Barnum's Animal Crackers, which have a lot of that brand recognition but not enough scale to demand actual resources.
There was no such role at Mondelez before Bezner took it. And it's important to the company's future, too. When Kraft and Mondelez split into two in 2012, Mondelez got the all-star brands — Oreo, Toblerone — while Kraft got the cheese and the salad dressings. Mondelez was a growth engine, but over time, sales volumes have dropped and the company's CEO, Irene Rosenfeld, is facing pressure to keep margins up.
So Bezner is putting on her startup hat. She calls it "hacking ourselves," figuring out how a giant like Mondelez can do more with less. And that means figuring out Mondelez's point of view in a world where startups and small organizations rule. "How do we go nimble, how do we hack ourselves before someone else comes and hacks us?" she says.
One challenge is coming from an increasingly health-conscious society in which refined sugars are being demonized as the next Big Tobacco. The other is going toe-to-toe with giant competitors like Mars or Hershey's.
There are also challenges in the digital space Mondelez needs to solve: In June, the company announced a large-scale shift in how it would advertise to resemble a media company more than a brand, partnering with 21st Century Fox and BuzzFeed to create content and apps — including a game for Sour Patch Kids. The brand hopes 10 percent of its media investments will either break even or make a profit by 2020.
While many of those shifts are happening at a level much higher than hers, Bezner embodies the new, modern marketer. Her Canadian frugality and an ability to do more with less is what has caught the attention of higher-ups at Mondelez.
"Some of the best stuff we've done as an organization we've done with her," said Bonin Bough, head of e-commerce and media, who, Bezner says, "took her under his wing" when she came to New York from Canada. He's talking about Sour Patch Kids but also a program for Trident in 2013 that was the first TV show built around conversation spikes on Twitter.
And to think it all started with her stumbling on a Tetley tea display: "What she's done well is read the tea leaves of where consumers are going," says Bough. "She's willing to take calculated risks without issues of ego or fear."
If you enjoyed this sneak peek at the programmatic issue of Pulse Magazine, get your yearly subscription here.
https://digiday.com/?p=186942
December 8, 2023 • 3 min read
For Atlas Creative, expanding into Roblox is not solely a play to scale up. The company believes there are concrete benefits that will come with having a hand in multiple metaverse platforms.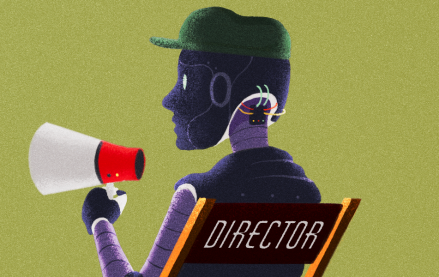 December 8, 2023 • 5 min read
Since ChatGPT became a breakout hit, the names of numerous AI companies and products have entered the cultural vernacular.
December 8, 2023 • 4 min read
Even as linear TV ad spend declines, 23andMe is reinvesting in the channel to boost brand awareness.