'Instaworthy' touches: How Marriott incorporates digital into its boutique hotels
July 10, 2017 • 5 min read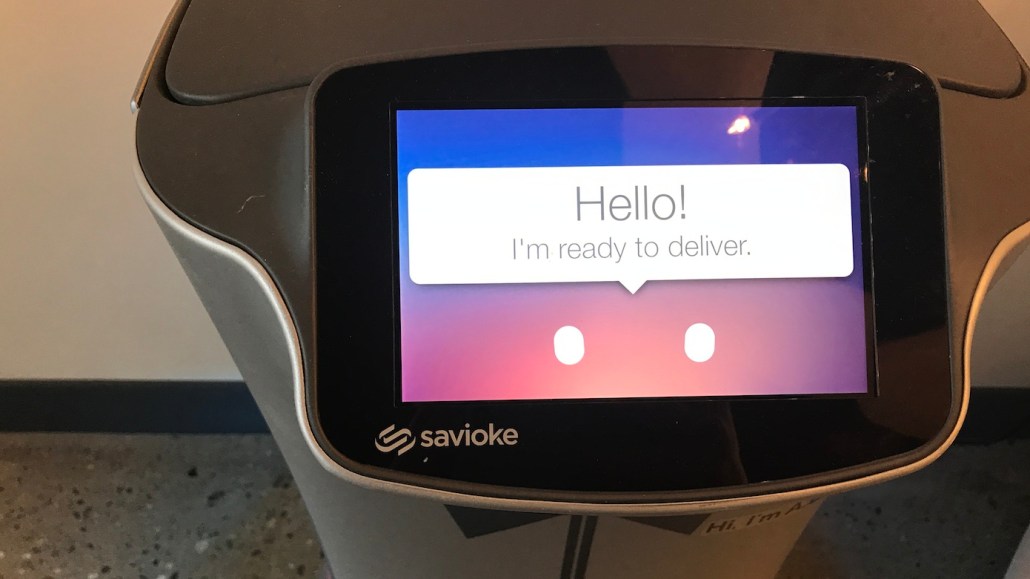 In the lobby of Marriott International's 6-month-old Aloft hotel in Queens, New York, a two-foot-tall gray cylinder sits behind the front desk. Aptly named Botlr, it's a robot that functions like a personal butler. Guests will often find themselves sharing an elevator with it as it delivers small amenities, such as tissues, toothbrushes and water bottles, to paying guests throughout the 18 floors of the hotel.
On Thursday night, I watched as Kimberly Ramos, the front desk agent at the hotel, placed a toothbrush in the robot's hatch and programmed it to deliver the item to a room. On Botlr's screen, which is no larger than an iPad, appeared two smiling eyes and the message: "I'm running a delivery." It glided along the floor to the elevator bank, wirelessly called the elevator and took it to the fourth floor, right to the door of Room 409, where it waited for the guest inside to claim the toothbrush. Once the robot made the delivery, it quietly took the same route back to its resting place in the lobby.
"The robot is usually the reason why people want to come in," said Ramos. "People hear about it and are excited to try it out for themselves."
Of Marriott's line of 10 different lifestyle-driven brands, two of them — Moxy and Aloft — were designed with digital in mind to attract consumers with the promise of memorable experiences they can share, said Amy Sherman, senior director of digital marketing for Marriott's lifestyle brands. "Generally, with lifestyle hotels, people want more from their travel experience than just a bed and just the basics," she said. "They want something they can tell a story about or have an experience in, even if it's only for 24 hours."
The newest brand, Moxy, which debuted in 2014, features a variety of playful experiences. For example, all 10 Moxy hotels contain a video wall that shares Instagram content from guests who use the hashtag #AtTheMoxy. The same content is then also featured on the Moxy website. The wall is what the brand calls the "Guestbook" and is as "a way to show the community what Moxy represents," said Sherman. Guests check in at the bar using iPads instead of a reception desk and receive a free drink when doing so. The hotels also contain what Sherman calls "Instaworthy" touches and designs like stylish lighting fixtures, colorful murals and art from the region, and social contests. Guests can also try "selfie elevators," which house features guests can share like picture frames or quotes written in lipstick, said Sherman.
Aloft, on the other hand, targets a tech-savvy audience in its 100-plus locations around the world. Although the branch launched in 2008, it is constantly updating itself. "Aloft is a incubator for innovation," said Sherman. "We are always looking for guest-centric technology that [makes] life easier." For instance, Aloft has experimented with keyless entry, a way for guests to use their smartphones to access their rooms; a portable wine cart that automatically pours wine when activated by a guest's hotel room key card; and allowing guests to communicate with Botlr through mood-specific emojis.
Even with these stereotypical millennial experiences, Marriott hopes to target people with a similar mentality, rather than a specific demographic, said Sherman. "We didn't specifically set out to create millennial brands," she said. "You don't have to be a certain age. It's more that you like that lifestyle and have that kind of mindset." She describes both Moxy and Aloft as "not taking themselves seriously," "free-spirited" and "playful."
It's for this reason that neither brand uses traditional ways of advertising. Instead, they place the majority of their marketing budgets into social, which is done in-house, said Sherman. Moxy isn't even on all social platforms — it's only on Instagram because that's where the brand's audience is, she said. Even though Moxy has only about 9,700 followers on the platform so far, it has seen an 194 percent increase in followers in the past year, growing seven times faster than Aloft and nearly three times faster than its Hyatt competitor Andaz, according to data from Unmetric. Aloft has more than 172,000 followers on Facebook, 32,000 followers on Twitter and 17,000 followers on Instagram.
Although Sherman didn't reveal sales numbers, both brands will open new locations in the coming year, which indicates there is strong interest. Marriott is now the largest hotel chain in the world after acquiring Starwood hotels last September.
Of course, Marriott isn't the only hotel chain to have introduced these tech-infused, socially driven hotels in the past few years. In fact, sub-brands that cater to millennials have emerged as a trend in the hotel space, according to Michael Khoury, strategy director at brand strategy and design firm Landor. "To combat the Airbnb effect and the popularity of boutique hotels, major hotels are investing in sub-brands that dial up local flavor and cutting-edge design, offering truly differentiated experiences that you just can't find in the parent brands," he said.
Marriott is by far the largest player. At the end of June, Landor released a ranking of the top 10 most innovative hotels based on consumer perception, and Marriott properties took seven of the spots with Moxy, Aloft, Autograph Collection, Edition, Element Hotels, SpringHill Suites and W Hotels. Andaz and IHG's Kimpton also made the list, along with the only independent brand to do so — The Standard Hotels.
Sherman calls this shift to digital a "natural revolution," but not because Airbnb made it that way. "It's not a response to Airbnb," said Sherman. "People love it. If you are staying at a hotel and you feel like that brand gets you, you have a much better experience."
https://digiday.com/?p=244967
September 27, 2023 • 10 min read
Digiday+ Research assesses how brands and influencers are using Shorts to reach new audiences and what types of Shorts videos create the most buzz for marketers.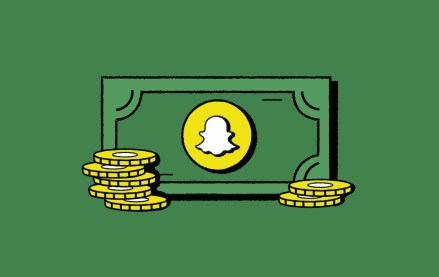 September 27, 2023 • 4 min read
Yesterday, Snapchat marked its return to in-person agency roadshows, sending company representatives to Horizon Media's Manhattan office to showcase a Snap-designed video game intended to capture the essence of what it's like to work at an agency — and how Snapchat can be part of the process.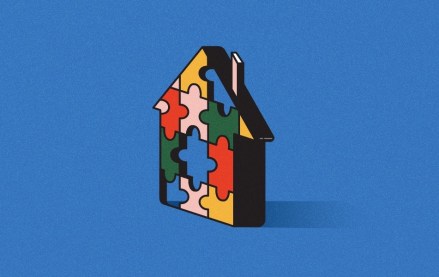 September 27, 2023 • 5 min read
As in-housing settles in as a mainstay, some marketers push for complete control.