Inside the first Red Bull Studios NYC 'gift shop'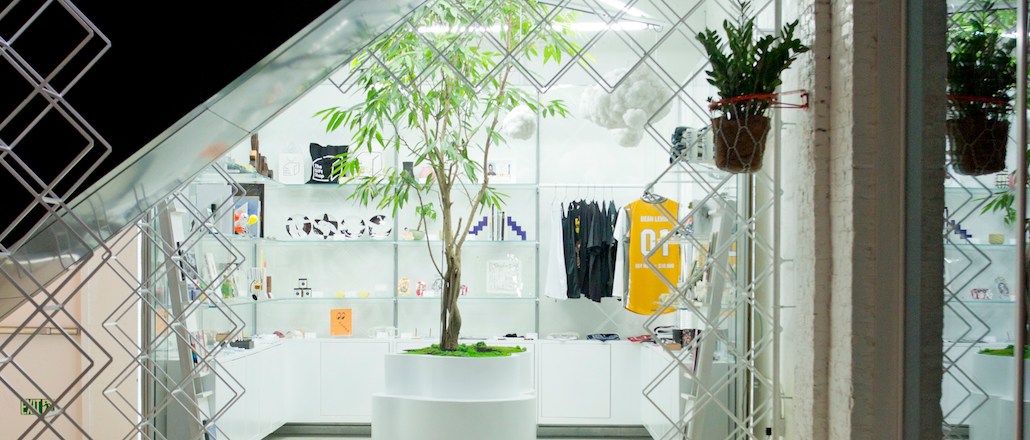 Red Bull owns and operates branded studios all over the world, including one in Manhattan, where it hosts artists and musicians for collaborative projects and installations. The studios represent a more creative side of the energy drink company, each with a recording studio at the heart of the space.
When the team at Red Bull Studios New York approached creative agency Alldayeveryday to collaborate on a project, it had a problem on its hands: The studio essentially went dark in between installations. Max Wolf, the studio's programming manager, wanted to fill that silence with a shop: a reimagination of the traditional museum gift shop, with a curated selection of items that correspond with the installations and exhibitions held in the studio.
"Instead of selling Picasso cutlery, we wanted to commission artists that we work with and/or within our community to publish books, create objects, bric-a-brac and ephemera," said Wolf. "However, it's far more than a retail store; it's also an alternative programming platform for us to host events in between and amidst our larger exhibitions." 
The Gift Shop, as the store is called, launched in March during a downtime for the studio and hosts events in the space to mark new artists' product launches, like panel discussions and screenings. The shop will go on hiatus in preparation for a new exhibition by artists Justin Lowe and Jonah Freeman, running from September until December, but will return in 2016.
To differentiate from the many other boutiques dotting New York City, Kevin Kearney, the managing creative partner at Alldayeveryday, said the Chelsea shop sells "weird and different" products made by artists, like a clothing line by OKFocus creative director Ryder Ripps (you can buy a $420 varsity jacket he made) and shoes by visual artist Rashaad Newsome (his sandals go for $136).
"They wanted to do museum-style contemporary art programming, and that ended up looking like a shop," said Kearney. "The concept around it was to be able to drop limited edition projects with artists we respect, while building an experience around it."
"There were no real guidelines or rules," said Kearney, regarding how Red Bull and Alldayeveryday chose artists for the shop. "Our creative team drove the curation based on whose art they'd want to make themselves."
The Gift Shop's next product launch, being held in the store today, will bring aura readings and crystal sets into the store, both courtesy jewelry artist Anna Sheffield. This will be the last in-store launch of the year, followed by the closing of the Gift Shop's physical location, but the Gift Shop's e-commerce store, which lives on Alldayeveryday's website in order to "balance the collaboration," according to Wolf, will stay open.
The team at Alldayeveryday also runs the interviews with new artists and articles around the product launches at the Gift Shop on its website, but it can't say yet if it plans to continue working with Red Bull Studios. The studio has plans to reopen the physical store next year.
Kearney, who said that Red Bull Studios left a lot about the store open-ended when it approached Alldayeveryday, thought the idea-to-execution represented the core goal — to fill out the experience of the studio, by offering a piece of it that guests can walk away with.
"It came down to: How can we make a space and branding that was clean, neutral and able to work with a range of exhibitions," said Kearney. "What came out of it was a high level production."
Wolf mentioned that giving artists a "new economic platform" was important to the Red Bull Studios team, less so pushing sales (sales figures weren't available for the store).
"We've been able to work with more than 60 different artists, and we have hosted some really engaging events," said Wolf. "We'll be back in 2016 with more content, and e-commerce will live on for Red Bull Studios NYC. It's been a great success."
https://digiday.com/?p=127418