"Silicon Valley" is a scripted HBO comedy that so brilliantly satirizes the real-life tech industry it's hard to tell what's real and what's a joke. Now it's blurring the lines between fact and fiction online as well.
Searching "Silicon Valley" or "Silicon Valley HBO" on Google pulls up fake news stories tied to events in last Sunday's third season premiere, with authentic-looking headlines situated on top, as seen below: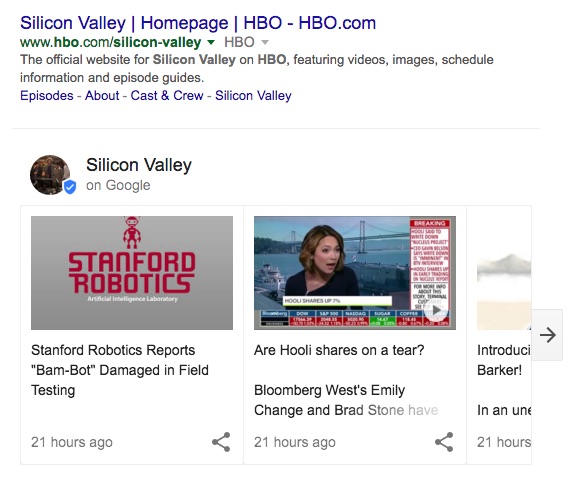 One headline reads "Are Hooli shares on a tear?" with a link to a Bloomberg video with real anchor Emily Chang playing a role for the show and another links to a post about an accident at Stamford Robotics — both fictional companies featured in the show. The headlines read like they could have been pulled straight from TechCrunch, but they are of course fictional.
The posts are published on Google Posts, a tool rolled out earlier last year for presidential candidates, that lets brands or publishers post directly to Google rather than linking externally. Google Posts is not an ad product, and HBO appears to be using the tool as a free way to cleverly promote the show.
"We're continuing to experiment with the look and feel of this feature, including exploring other potential use cases," a Google spokesperson told Digiday. Posts have been used in the past a promotional tool, including for Jimmy Kimmel Live and Game of Thrones.
The partnership is just another way the show ties in its fictional work with the non-fictional: This season's revamped credits features logos from real tech companies, like Uber and Lyft, along with Amazon Prime drones.