Unless you're stumping up for a $750,000 sponsored lens, metrics are hard to come by for brands on Snapchat.
When it launched on Snapchat early this year, Topshop's account created content based on the gut instincts of its four-person social team. This resulted in a quirky mix of behind-the-scenes footage and guest appearances from the staff of Man Repeller. Topshop already runs editorial content on its blog.
"We wanted to have something that felt considered and identifiable, so when it was served up on Stories, you'd know it's Topshop," explained Fritha Hookway, Topshop's global social media manager. "We were quite set when we decided to launch that we didn't just want to do what everyone else is doing," she added.
Elsewhere on social, Topshop uses analytics tool Spredfast to track which styles customers are sharing and talking about. But from its Snapchat user account, the team could only see the views and screenshots each snap was getting. From these metrics, it deduced which kinds of content were doing well.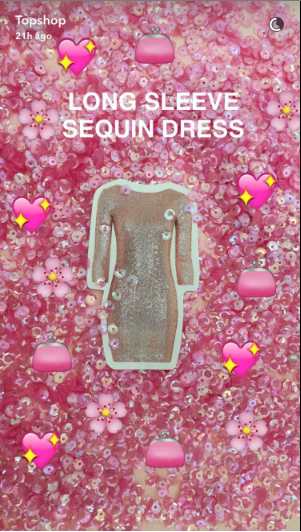 Images of products were a big hit, particularly shoes. In the months since, Topshop's team has moved to put products center stage.
Now, Topshop delivers a slick daily story that's crammed full of new products that are available to buy online and in-store. Additionally, every Friday, the brand's team of personal shoppers assembles outfits item by item to snare customers who are planning outfits for the weekend.
It now finds 90 percent of its Snapchat Stories are viewed to completion.
Topshop's Instagram page, which lets users click and buy items via the tech platform Like2buy, has seen Instagram move from a brand storytelling channel into a commercial driver, though Hookway wouldn't say how much mileage it has done so far.
While workarounds exist, it's difficult to make images shoppable from inside Snapchat. While Topshop waits for a seamless solution to come along, it's building a stop-gap in the form of a Snapchat landing page on its website. Here, users will be able to shop items from its daily story.
This should help the brand attribute some website traffic to Snapchat but also create a tangible home for those who have seen its Snapchat content shared on Facebook and Twitter.
"The customer journey is very non-linear. People are jumping around, everything's more complex," explained Hookway.
Whenever Hookway visits the Topshop's London flagship in Oxford Circus, it's normal to see girls showing shop assistants screenshots from Snapchat on their phones. But linking these sales to the platform is impossible. In select stores, the brand has rolled out branded geofilters that change every two weeks.
"Proving the commercial viability of social channels can be challenging," she said. "We're constantly looking for ways to understand how we can best measure that journey from phone to store."
https://digiday.com/?p=205915