'Hella messed up': One brand ditches Facebook over algorithm games
March 31, 2014 • 3 min read
•
•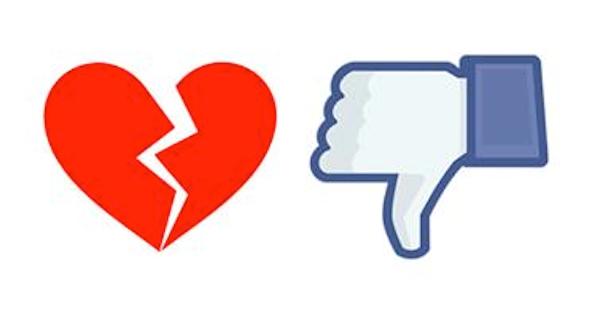 Food-ordering app Eat24 is not a brand averse to risks. After all, not every company would choose to advertise its services on porn sites or tell people not to watch its own ads. Now it's taking a bigger risk: Eat24 is quitting Facebook.
The app posted on its blog that it has had enough with the algorithm games Facebook plays with marketers. After urging them to build communities there, and selling ads to do so, Facebook has systematically ratcheted back their reach — unless of course companies pay up.
Eat24 is unimpressed. And it spoke for many brands when it wrote on Friday: "That's hella messed up."
Truth be told, your actions make us feel like you don't respect us. Maybe you think our food-related pick-up lines and sexy tater tots memes come out of nowhere, but we spend a lot of time trying to make people happy. Seriously, we dedicate at least an hour a day to finding a word that rhymes with Havarti because we want to write the first-ever cheese Sonnet. All we do is give, and all you do is take. We give you text posts, delicious food photos, coupons, restaurant recommendations… and what do you do in return? You take them and you hide them from all our friends. Maybe you steal our random musings about pork buns and claim them as your own. Guess we'll never know.
According to a recent study, brands typically reached 12 percent of their audience in October 2013. That number was cut in half by February.
Eat24 is putting its money where its mouth is. Despite having been liked by more than 70,000 people on Facebook, the app is shutting its page as of Monday at midnight.
Even though Eat24 predicted nobody would see the Facebook post announcing the decision, it has nonetheless drawn about 2000 likes, 900 shares and 550 comments — most of which support the move.
UPDATE: Re/Code notes that Brandon McCormick, a Facebook public relations office, has responded to Eat24 with its own snark — a look that might rankle some marketers that have felt duped by Facebook's changes.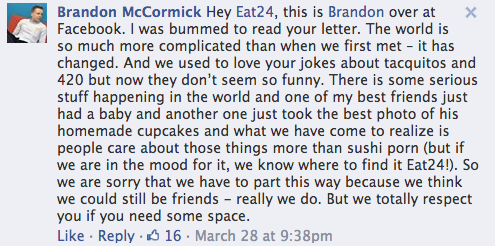 To be fair, there's a reason marketers might actually benefit from Facebook's moves to kill organic reach in favor of advertising. Organic reach is unpredictable, and many marketers would rather have a solid forecast of how many people they're going to reach rather than leave it up to the resonance of their content.
Eat24 is not one of those marketers. In fact, it invoked Twitter's open feed and, ironically enough, Facebook-owned Instagram as counterpoints.
Not to hit below the belt, but we have a lot more fun when we hang out with Twitter and Instagram. They don't have weird algorithms, which means all of our besties get to see everything we post. You might have noticed that when Ellen decided to take a selfie of beautiful people being beautiful, she did it on Twitter. And she got so many RTs, she broke it. The whole site went down. When was the last time you got that much action?
Zing. Will other marketers follow Eat24's lead? Probably not. The trouble with platforms, as marketers and app builders have learned, is that they don't own but rent. That means you don't set the rules. It's unclear, and even unlikely, whether Facebook had a grand plan to snooker brands into building large audiences on its platform only to pull the rug from under them. Still, the fact remains that's exactly what was done. And clearly some aren't too happy.
https://digiday.com/?p=69897
October 3, 2023 • 2 min read
•
•
In episode four of the "Is This The Metaverse?" narrative podcast, Glossy international fashion reporter Zofia Zwiegliska spotlights the brand opportunity when it comes to fashion in the metaverse.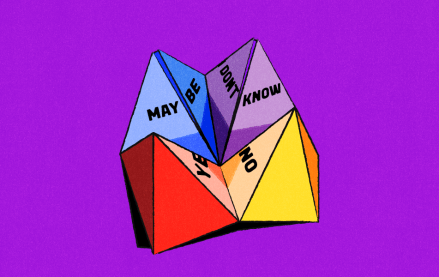 October 3, 2023 • 5 min read
•
•
Overall there's more due diligence from marketers when it comes to influencer marketing efforts now, according to marketers and agency execs, who say that there's been more rigor over the last year, and especially over the last six months.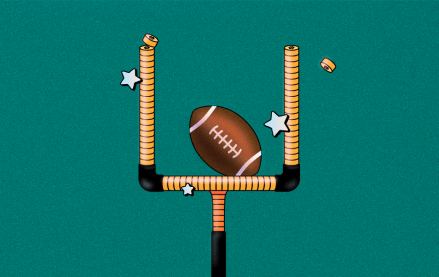 October 3, 2023 • 3 min read
•
•
The collaboration between the Los Angeles Rams and Snapchat goes back to 2020 as the Rams made became the first NFL team to conceive a Snapchat AR experience, affording fans the opportunity to virtually wear the team's recently unveiled uniform.