Digital agency Fuel has gamed Instagram — literally — by turning its portfolio into a gamified treasure hunt on the platform.
Fuel's Instagram page looks and feels like a pinball machine, with 15 different images stitched together into one big picture. Six of these 15 image tabs are visual easter eggs, that users can click through to see the agency's work and projects.
To create the portfolio, Fuel hacked Instagram's tagging feature, creating a series of linked pictures that lead to six of its projects, each of which have their own accounts. Users can click through to explore the agency's work on behalf of clients like Disney, Hasbro, Microsoft and Star Wars and even find mini-videos describing them.
When you click on the square image with the Mickey Mouse ears, for example, the tag "disneyjr_magicphone" leads you to Fuel's project for Disney which enabled kids to chat with Mickey Mouse on their phones.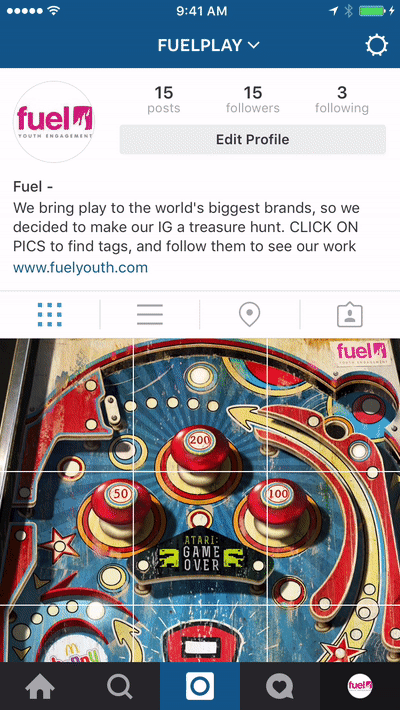 "'Play' is a very important word in our vocabulary and we're always finding new ways to bring fun and exploration to different mediums," Sean MacPhedran, Fuel's creative strategy director, said. "Within any platform, it makes sense to be as creative as possible within the constraints of the canvas."
The gamified portfolio was created in a week, with the art taking the most time. Interestingly, a few of the agency's sub-pages were removed by Instagram admins, said Nick Iannitti, Fuel's communications director, possibly because all the activity was reported or interpreted as spam.
Instagram has emerged as a creative playground for both brands and agencies recently. Just last month, KBS's Attention ditched its website, replacing it with a virtual catalog on Instagram handle that took users across the agency's work, leadership, offices and even snippets of agency life. Domino's created a click-through game called "DXP Adventures" and Chick-Fil-A created a virtual flip-through menu containing all the ingredients and nutritional information for its menu items.
"While Instagram may seem like an old hat to many, it is still in its infancy in terms of tech and campaign delivery," said Iannitti. "This is why our clients appreciate it when we can show them these small creative innovations on platforms that are still emerging at massive scale."
https://digiday.com/?p=173712