May 11, 2020 • 2 min read
•
•
This research is based on unique data collected from our proprietary audience of publisher, agency, brand and tech insiders. It's available to Digiday+ members. More from the series →
Influencer marketing may no longer be the growth area it once was for marketing budgets, according to a new survey of 60 brand execs responsible for spending decisions.
The survey found that 37% of brands have decreased influencer marketing expenditure over the past year. For 27%, spending has remained flat. Only 35% of respondents said they had increased spending.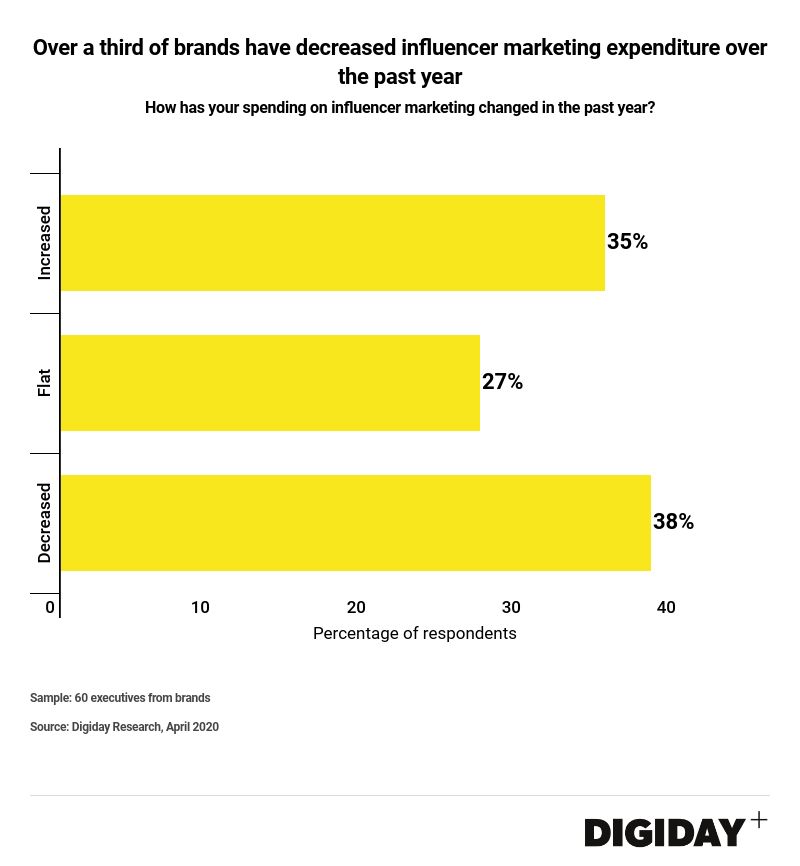 There are a few indications according to the survey data has to what's going on. Selling a product by getting a famous person to endorse it isn't exactly a new strategy. But influencer marketing — which had regular Joes and Janes turn famous on Instagram and other social media platforms — took off a couple of years ago with brands. Touted for having "authenticity," influencers were a particularly good way for brands to spend marketing money and muscle as other channels shrunk.
Since then, there have been problems. One of the biggest ones is trust in the channel: About 73% of respondents said they thought influencer marketing was "murky", and 54% said they would spend more money if the industry was better standardized. About 50% of people were completely confident that the medium drives marketing success.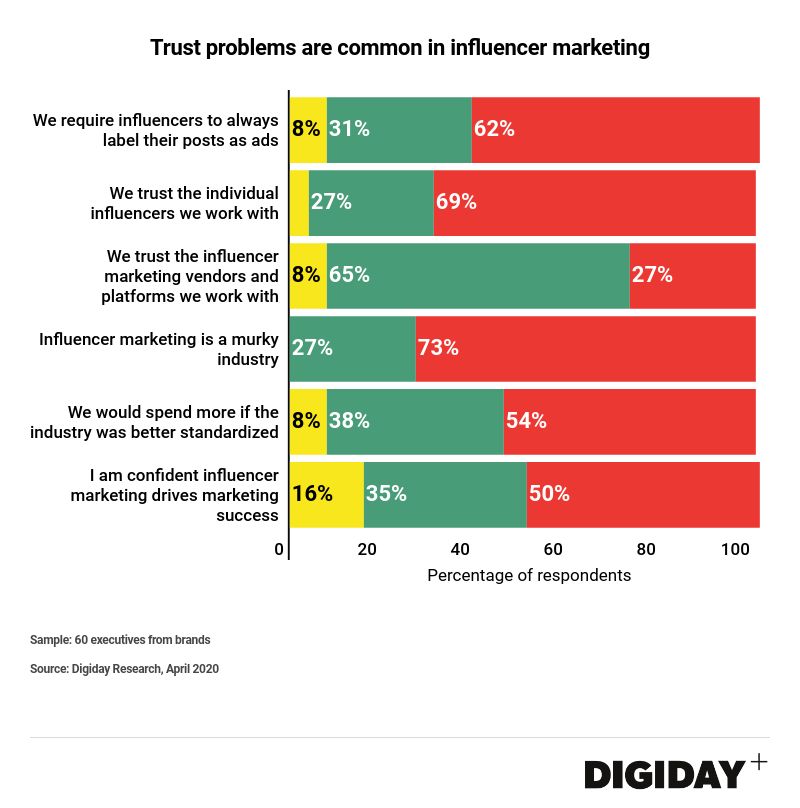 Previous data has shown that despite Instagram's ongoing crackdown against fake likes, inauthentic audiences and fakes, plenty of issues still exist on that platform, as they do on others.
Digiday's survey found that clicks and site traffic are the most common way to measure the efficacy of influencer marketing, along with engagement — likes, comments and shares.) Less common is sales and revenue and "actual audience reach."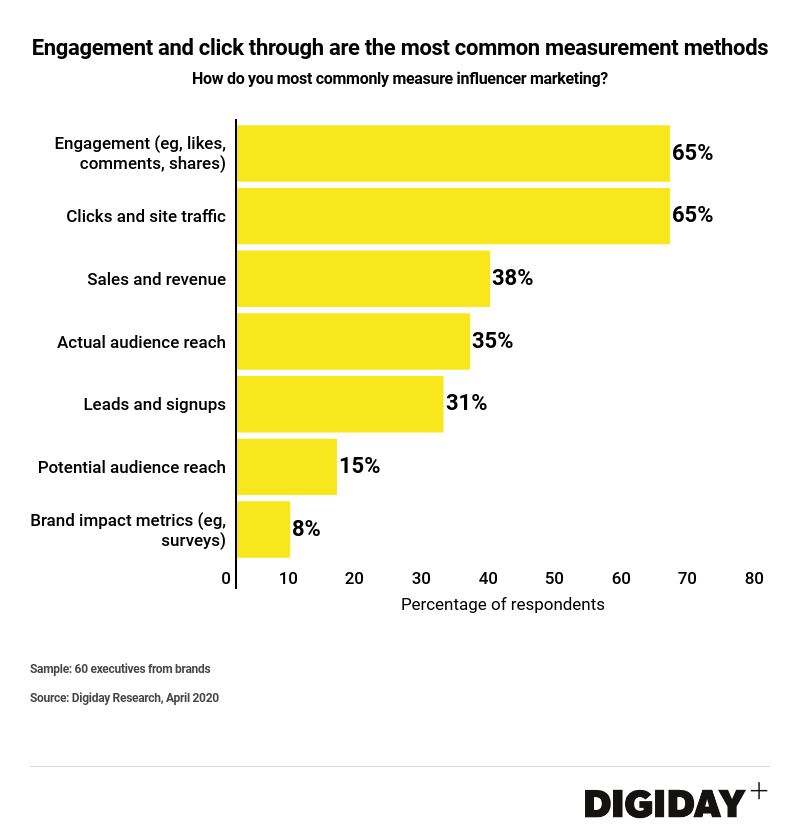 The biggest issues with influencer marketing vary. The biggest two issues are identifying the right influencers and measuring influencer marketing.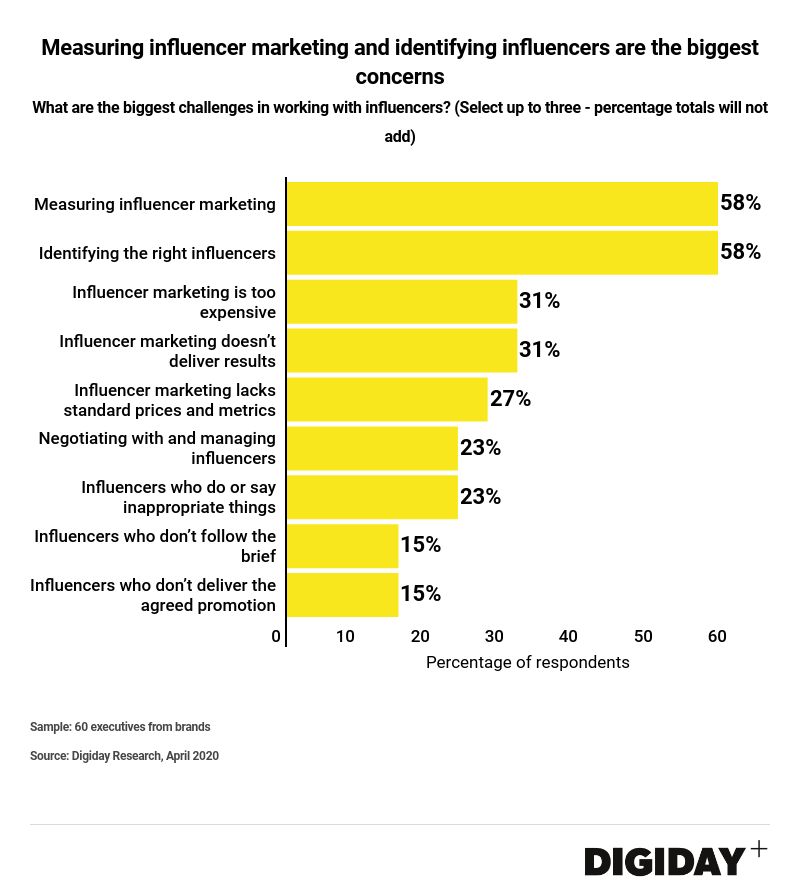 For years, influencers used basic "follower counts" in order to garner brand deals. But marketers for years complained about not knowing if influencer marketing worked. As we've reported previously, marketers now look for a more refined approach.
A similar Digiday survey last year found that marketers struggled with a myriad of unresolved issues in influencer marketing, mostly to do with the same problems: campaign measurement and influencer selection. Of 83 client-side marketers polled by Digiday last April, 27% said the biggest obstacle to influencer marketing is measuring campaign performance while the same amount said they struggle to find the right influencers to work with.
https://digiday.com/?p=366667