The definitive oral history of the agency holiday card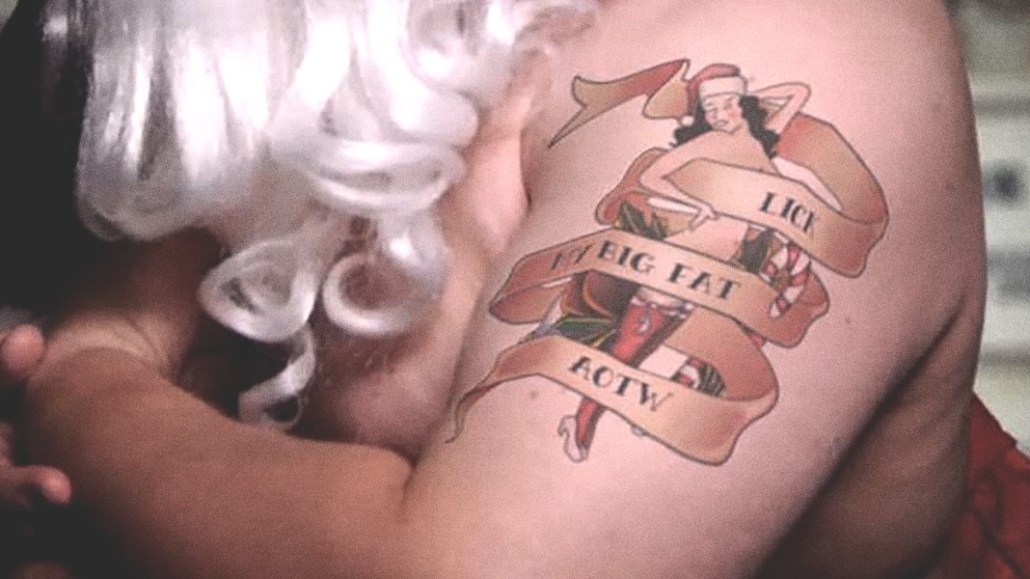 The agency holiday card isn't just a way to spread good cheer.
Indeed, it's far more serious than that: A Rorschach test that tells clients, fellow creatives, agencies and journalists the kind of agency they're dealing with. The cool yet zany upstart? A truly creative shop proving it's still got it? Or possibly a holding company shop that's simply looking to be known as pragmatic and charitable? How the agency handled its holiday greeting helped define the agency brand — at least that was the case for much of the '00s and the '10s.
Now, as we enter a new decade, fewer agencies are putting as much effort into the holiday card and instead opting to go back to the basics with an actual card or funnel those funds to charities. Whatever the case may be, the heyday of the agency holiday card seems to have come and gone. Here's the story of how the rise and fall of the agency holiday card from the people who made them.
Chapin Clark, executive creative director, R/GA New York: It seemed like every year in the early-mid 2000s you would be part of a small army of writers, designers, UX people, producers, and developers tasked with building the agency holiday card. "Card" is the wrong word, really. This was an experience. An extravaganza, a happening. It was something that not only had to be concepted but built, QA tested. It was exhausting.
Alec Beckett, creative partner, Nail: The holiday card is the one time of year to have a client-less infinite blue sky opportunity. We have a crazy history of them. One year we sent out dried elves ears that were actually pigs ears, they were disturbing. We had the "Santatizer," which was a seat cover to put on the mall Santa before you sit on his grungy lap, we had the Honest Advent Calendar, where instead of chocolate had Ibuprofen and shots of whiskey. These were big production numbers. People always appreciate it but as the years went on it felt like it just got crowded, over-the-top and that there were diminishing returns. This year, for the first time in our history, we're just doing a plain old fucking card.
Patrick Hardy, CCO, Tierney: The origin of the agency holiday card really was just to wish clients and partners a happy holiday. Over time it has become a vehicle to truly connect with people and showcase how we think in a memorable way. We do work all year for our clients—but the holiday card is the one time we get to be the client.
Golden Years
When it comes to the glory years of the agency holiday greeting, agency veterans point to the mid-'00s. At that time, going viral on the internet was a new concept and the ability to create something unique and share it online still had a special sort of cache.
Jason Musante, global CCO, Huge: Two things happened to the holiday card: The internet and digital. We had a totally new way to share the card and have people experience the card and a new way to create the card. R/GA broke the mold when they created the "Tattoo Santa."
Beckett: The golden years were probably the beginning of social media, maybe 2007 or 2008, when you could have something spread socially and that was a novelty at the time. That, of course, is not the case anymore. Now you're competing with 1,000 people who are experts in content creation with your little holiday joke. If you're telling a joke you lose to a YouTuber who's doing that all day long. There's just less fat for the freedom.
Mark DiMassimo, chief, DiMassimo Goldstein: Up until a few years ago, if you were a challenger agency wanting to get on the map it was a field day. By making the extra effort to do something thoughtful, creative and hopefully viral we could really put ourselves on the map. Then everyone got in [on creating something strange.] The heyday probably [ended] two years ago. Now, it's a little like the Super Bowl. You've got to watch it and you hope that something extraordinary will happen but it's unlikely, it's a longshot now.
Competition heats up
Because agencies are agencies, what was once a fun creative execution soon became a heated competition with agencies all looking to one-up each other's ideas. That changed the holiday card from a fun execution without rules or client demands into something altogether more taxing.
Clark: There was a period where things were really overheating in the digital agency space. More and more money was flowing into digital, which intensified competition, and the agency holiday card became a kind of spec piece where everyone was trying to show what they were capable of.
Musante: It was a level playing field. Everyone had the same brief, same client and basically the same budget. That's really rare. At awards shows it's not like that. No one set out that way but it was the same parameters for all of us so it was this lovely way to judge ourselves against our peers.
Beckett: There's pent-up creative energy in our business. There are more creative people with good ideas than there are opportunities from paying clients to exercise that. So I think the holiday card became this default playpen and that was really fun. But when it started to become a competition I feel like the fun disappeared. It was less an expression of your agency's esprit decor and more of a mandate from ECDs wanting to be in the top 10 cards this year.
Jefferson Burruss, vp and director of digital production, GSD&M: Agency folks inevitably think they're funnier than they actually are. We've tried to focus on the imaginative and impactful, which isn't to say that humor doesn't play a role or we take ourselves too seriously, but I think we've always wanted something that reflects caring and community without ever thinking about one-upmanship.
DiMassimo: It's hard to resist [the competitive drive]. But after a while, when you realize it's the new norm, the new conformity and if you're truly creative you've got to take a step back, think, do something different and start changing the game again.
The process
What's made, who makes it and how long it takes varies by agency but everyone interviewed for this piece relayed a similar sentiment: They wished they'd started making whatever they made earlier.
Clark: My main memory of that time was cycling through and discarding tons of ideas. And the anxiety of influence — every year you were competing not only against other agencies to see who could come up with the cleverest thing, but against yourself, as well. With what you did the prior year or the year before that.
Jamie Dollins, content producer, The Martin Agency: The groups that work on the cards switch from year to year to get fresh perspectives and give everyone a break because it can be hard to add to agency work on at the end of the year. On this one, we started talking about it in September and even then it didn't feel like early enough. Next year, I'm going to push that they start even earlier.
Favorite holiday cards
Over the years, agencies have created iconic holiday work from R/GA's "Tattoo Santa" to Mother London's holiday spam. Here are some favorites.
Wayne Best, CCO, VMLY&R New York: My favorite holiday card was one aimed at agencies, from MacKenzie Cutler. They did one huge card to everyone, (i.e. a billboard). They placed it right by the Holland Tunnel, and had the name of everyone who worked with them that year in big bold type. Everyone went and took a picture.
Clark: Up until this year I would have said "Tattoo Santa," which was our 2007-08 card. It was a Flash/interactive video thing where you could tattoo messages on Santa's body and send them to friends. I liked it because, it worked the way it was supposed to, which is not always a given, and it was funny. We weren't known for being funny. But I'm also a fan of R/GA London's card this year, Happy Holid.ai. They fed a bunch of holiday lyrics and sayings into the machine and the AI generated original, not entirely sensical, greetings. Then designers created their own visual interpretations. It's technology-driven but also human. As a copywriter, I'm trying not to think too much about the implications for me.
Beckett: I think my favorite ever was one that Mother London did it. They sent out emails from a Nigerian Prince offering $10,000. Someone answered it and they actually gave them $10,000. It was beautiful — and very Christmas-y, like trust other people and good things will happen to you. It wasn't just sort of snarky agency humor.
DiMassimo: M&Co. and the famous Tabor Kailman and their amazing homeless shelter lunchbox mailing would be my favorite. They invented the genre, did it in a fascinating, impactful, creative way.
Anselmo Ramos, founder and CCO, GUT: [My favorite is probably the 1958 memo on Christmas cards] from David Ogilvy. I still think it's hard to beat. A close second would be that one that Barton F. Graf did a couple of years ago, with Gerry apologizing to industry people for making fun of them.
Competitions winds down
More recently, agency execs and creatives say that the holiday card isn't as meaningful as it once was and that, overall, the competition between agencies to create the best holiday card possible hasn't been as intense.
David Kolbusz, CCO, Droga5 London: I think Mother inspired the insanity. When they got fame off the back of that, equal to the fame they got for their work, everyone wanted to try their hand at it. Then the market gradually became over-saturated. Now, maybe one good one pokes through every year. If you're lucky.
Clark: During peak holiday card insanity — and it was a kind of collective hysteria, in my opinion. — I think agencies cared primarily because all the other agencies they were looking over their shoulder at, or were pursuing, cared. You wanted to win. But over time people tired of it. I know we did. The process, the pressure to be smarter and funnier than everyone else. And we'll put aside for a moment the question of, does this have anything to do with what the holidays are supposed to be about? Ultimately, I think uber-ambitious holiday cards matter less because of financial reasons. The return rarely justified the investment of time and resources. And now everyone has more pressing concerns. Like survival.
Beckett: It's a little bit like awards shows — as our industry is getting leaner and more project-based you can't expend an enormous amount of time and resources on them like you used to. It sounds kind of Scrooge-y of me now that I say it.