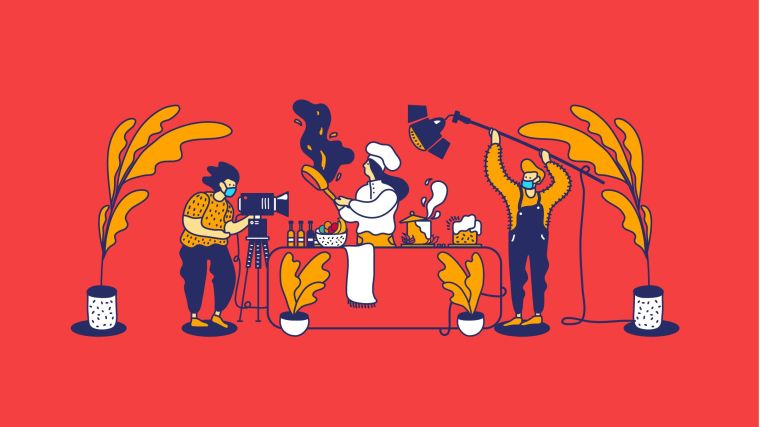 Ivy Liu
May 26, 2021 • 4 min read
•
•
Sticky's Finger Joint has always been in the business of keeping its customers pecking for more.
Since its founding in 2012, the NYC-based chicken franchise has made sure its menu items, from s'mores smothered french fries, to caramel and pretzel covered chicken, "push the envelope" in what's acceptable for the food company, said Jon Sherman, CEO and co-founder of the brand.
Sherman spoke at Digiday U's event on May 12 that explored how brands found enough success in experimental channels to make it part of their permanent strategies.
Sticky's Finger Joint Mission: find new channels to reach fans
In deciding where to take its social experiment, Sherman and the team came back to the concept that consumers enjoyed interacting with shots that looked like "food porn." "People love to eat with their eyes," he said.
A notable turn of phrase when it comes to the company's social strategy — which the team expanded to experiment with OnlyFans, a subscription-based platform that usually dabbles in exclusive content for mature audiences only.
Sticky's (correct), saw it as a way to promote new menu items and offer promotions to keep fans interested. "When you see something that looks over the top and delicious because that food porn nature has always been part of our social media strategy, we thought we could take it a step further. OnlyFans felt like the right platform to do that and engage the next level of die-hard fans," Sherman said.
The company had already established channels, from Instagram (with over 50K fans) and Facebook, which the company sees as a "great way to reach people," but weren't pages considered "personable."
"We really felt this was a really cool way that not only aligns with what we've been about but a way to reach a much more diehard fan base," Sherman said. "We want a way to engage with them."
The company's small social team knew that it couldn't be "great on every platform" and recognized that each channel deserved its own tone and voice. In thinking about experimenting, the team considered using TikTok and Clubhouse as experimental channels but thought there was a new space to carve out with OnlyFans.
"As we looked at the different platforms that are out there, we really felt like selecting OnlyFans aligned with our brand and wasn't something that had been done," Sherman said.
Sticky's took to its Instagram page to tease its OnlyFans account — which has already netted in 100 followers on OnlyFans — where fans have already been offered special promotions and tip-offs that some menu items were making a comeback for a limited time. It is "behind the scenes access," Sherman said.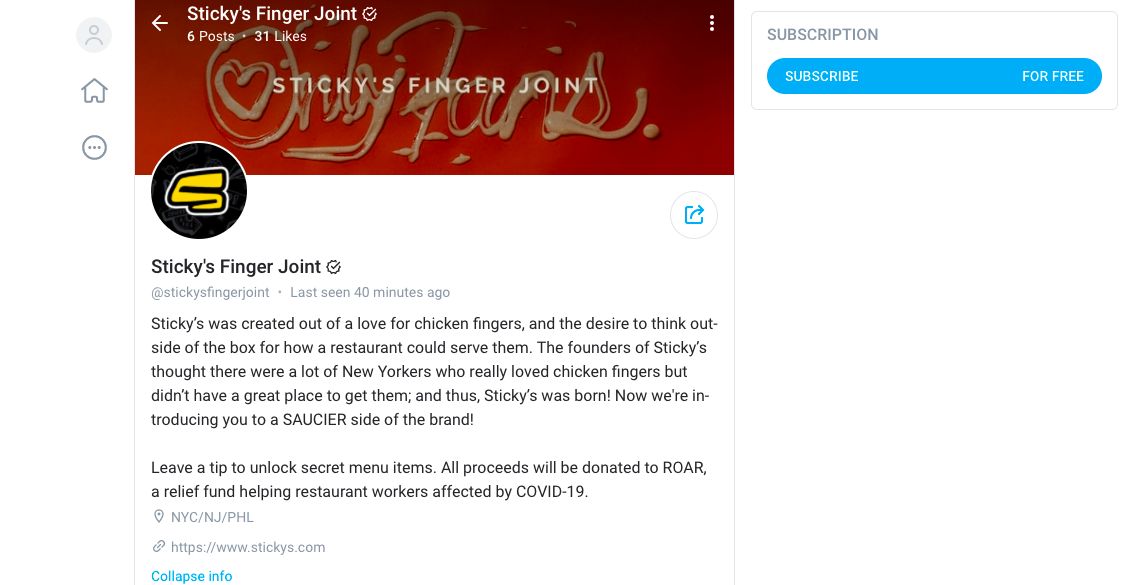 Sherman pointed to the engagement the brand has had with consumers on the channel — even with the few pieces of content that have already been put on its page. And the fact that users were willing to make OnlyFans accounts to meet them there.
"We're really excited to see if those sorts of diehard fans take advantage of the things we're putting on there," Sherman said.
While users could subscribe to the page for free, they can also leave a "tip" to unlock secret menu items, with all proceeds are going to ROAR, a relief fund benefitting restaurants affected by the Covid-19 pandemic. The company, so far, has kept the page as a brand marketing tool and a place to offer unique specials for customers there, rather than drive back traffic to its own website.
04
Where do you go from here?
Sherman teased that there will be more from the brand on OnlyFans in the coming weeks and months. The brand saw the private page as an opportunity to "raise money for a restaurant industry that needs help right now." Tangentially, the company sees e-commerce potential. "We're going to see where it goes," Sherman said.
The brand plans on rolling out more videos on the page, from chicken-eating contests to others showcasing menu items, to keep fans engaged.
"We're really just trying to try new things and push the envelope and see where it goes," Sherman said. "We don't know everything, we're trying to learn."
https://digiday.com/?p=415397