"Real-time marketing" is all the rage, to an unfortunate degree in some instances. But a few brands are actually doing a decent job of making themselves relevant in the lead-up to Halloween. As always, this type of content will have some users rolling their eyes, but others seem genuinely entertained by it.
Here are a few of the brand tweets getting some well-deserved buzz this afternoon:
Oreo
Oreo has been hitting Twitter hard today, posting Vine video reenactments of famous horror movie moments starring its famous round cookies. This scene from "The Exorcist" was causing buzz early this afternoon, alongside others it posted this week (most notably this "Shining" spoof).
Tide 
Like Oreo, Tide has been posting Vine homages to movies, featuring its iconic orange bottles as characters. This morning it borrowed a scene from "The Shining," a popular choice this week, and invited fellow P&G brand Downy to come play with it "forever and ever and ever…"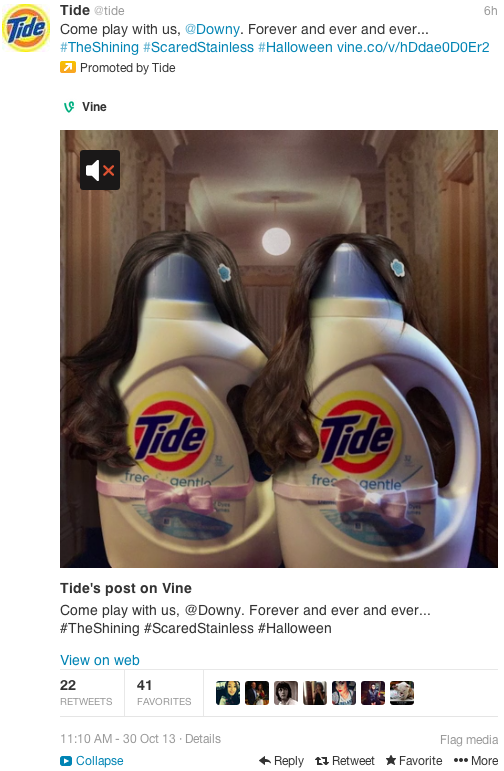 Downy
Downy responded in kind, reenacting the famous "Here's Johnny!" scene with a bottle of its product instead of Jack Nicholson's head.
FedEx
Meanwhile, shipping company FedEx wanted to ensure Twitter users that it has their zombie apocalypse survival kit ready to ship.