Amazon grows its programmatic ad business
August 29, 2017 • 5 min read
•
•
Amazon is growing its ad business, most recently making two big moves that will bring it more revenue.
Agency execs say Amazon is opening up and evolving self-service for Amazon Media Group, its advertising arm that works similarly to programmatic advertising to serve ads to people off Amazon.com. "What they're doing now is opening as a self-service platform to agencies, letting us manage those campaigns," said one exec, where previously agencies had to go through Amazon's own manager services. 
The executive said Amazon first approached him about the tool in the third quarter of last year, saying it was in beta. The company told this executive in July that the tool was now open to more brands and agencies, and it was a work in progress with some branding changes coming to it.
Another agency executive said Amazon has made major advancements this year that make it easier to bid on the platform and report for both first-party and third-party users.
The second executive also said the company has made widely available an application programming interface for sponsored product ads, increasing the efficiency of bids on the platform, and that similar developments are expected for the AMS platform in the near future.
An Amazon spokeswoman said that advertising is still a newer part of the business, but the goal for the company is to constantly evolve and update tools available for advertisers — and the ultimate goal is to make all tools available in self-service.
Amazon's public page describing its programmatic ad platform says the platform will dynamically deliver ads across Amazon.com and IMDb, as well as other owned and operated sites and apps, on publishers' sites and through exchanges. The offering, called Amazon Advertising Platform, or AAP, is the company's proprietary demand-side platform and can use everything from product images from Amazon.com to product review information that can be used for creative.
In June, Amazon also launched Advertiser Audiences, a self-serve platform that lets brands access audience matching, similar in a few ways to Facebook and Google. The tool allows brands to build audience segments based on data from Amazon.
The growth of self-serve is a clear move to give more levers and control to marketers and their agencies. Self-serve means more ads, and more ads means more revenue. It's attractive to agencies because it lets agencies impose their own margins or markups. That inevitably reduces friction and also means more ad options and, therefore, more revenue. "I have heard from reps that this is a major part of their effort to boost advertising," said one agency executive with knowledge of the matter.
The second change Amazon made that caused ripples in the seller community was opening up headline search ads to sellers as long as they are brand owners. Headline search ads are largely the most powerful Amazon advertising tool — second only to sponsored product ads. They appear above the search results when customers search for a particular item, similar to Google Search.
"This high-performing slot can be a huge difference for brands working to announce and launch new products or defend critical or strategic brand terms," said one executive. (The third ad type available is product display ads, formerly known as e-commerce ads, which are only open to those who are vendors, that is, sell directly to Amazon)
Some sellers who spoke to Digiday under the condition of anonymity said they are getting $99 coupons and incentives to spend on Amazon Marketing Services, a common tactic for platforms as they grow ad options.
Kristin Rae, an entrepreneur and founder of Inspire Travel Luggage, who sells as a third-party seller on the platform, said she doesn't remember getting credits, but does see headline search ads (part of AMS) advertised to her occasionally. "This lets me dominate keywords," she said. "I know I spend the same amount within Amazon and get more targeted return than anywhere else."
Until now, third-party sellers, who sell in Amazon's marketplace, not to Amazon directly, had a number of hacks for accessing AMS. Those in the seller community had a low-performing product — essentially a sacrificial lamb — sold via Vendor Central, which would give them a door into AMS. (AMS options like product display ads are only available to vendors.)
"While [Amazon is] still years behind monetizing the platform as Google has, the new changes, such as opening up new ad slots, allowing for automated campaign reporting, complex keyword attribution and use have greatly increased efficiency of the channel and allowed strategic brands to steal share from those still struggling with the platform," said one executive.
Amazon has a growing ad business, although its size is still up for debate. WPP chief Martin Sorrell, who has been one of the loudest voices in the industry on Amazon, estimated last week that the company made $2.5 billion from digital advertising in 2016, while eMarketer put Amazon's 2016 ad revenue at $1 billion. Morgan Stanley analyst Brian Nowak estimates that Amazon's advertising business will reach $7 billion in revenue by 2020. Brands are also increasingly using Amazon's ad platform, especially as the company ramps up its pitch to them.
Analysts in the industry believe rapid growth on the ad side is probably a priority for Amazon, since that can help ease its other growth issues, especially in its lucrative Amazon Web Services arm. And advertising has a profit margin of 20-30 percent versus the 5 percent that is common for retail, according to analyst Steven Mallas.
https://digiday.com/?p=251689
December 8, 2023 • 3 min read
For Atlas Creative, expanding into Roblox is not solely a play to scale up. The company believes there are concrete benefits that will come with having a hand in multiple metaverse platforms.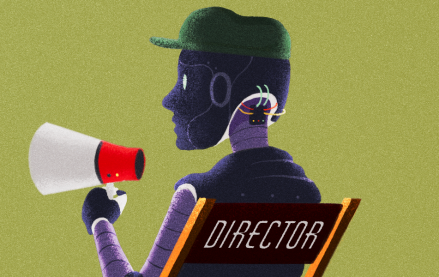 December 8, 2023 • 5 min read
Since ChatGPT became a breakout hit, the names of numerous AI companies and products have entered the cultural vernacular.
December 8, 2023 • 4 min read
Even as linear TV ad spend declines, 23andMe is reinvesting in the channel to boost brand awareness.