Inside Jeffrey Katzenberg's plan to spend up to $1b by 2025 on programming for Quibi
December 10, 2018 • 6 min read
•
•
Jeffrey Katzenberg has been open about his plans to spend big bucks on programming for Quibi, his upcoming subscription mobile video streaming service. A pitch deck for investors shared by Quibi earlier this year — back when it was still called "New TV" — shines a light on how Katzenberg, Quibi CEO Meg Whitman and the company will approach the content market.
In the pitch deck, which has been reviewed by Digiday, Quibi expects to spend roughly $496.5 million to buy programming for the service prior to its launch in late 2019.
After launch, the company outlines three scenarios where Quibi gets to 11 million, 20 million or 70 million subscribers in five years — and how the content budget would increase based on each of those scenarios:
In Quibi's "base case" of 20 million subscribers in five years: the company would spend $600 million on content in the first year and as much as $978 million in year five.
In the "upside case" of 70 million subscribers in five years: the company would spend as much as $2.6 billion on content in year five.
Even Quibi's "downside case" of 11 million subscribers in five years: the company expects to grow its annual content budget from $356.8 million in its first year to $618 million in its fifth year.
These are budgets based on different hypothetical scenarios, but the financial models shown to investors demonstrate that Quibi is thinking long-term on how its content budget will need to increase — and how that can tie back to revenue. (A Quibi spokesperson declined to comment.)
Subscriptions will be the main driver of revenue for Quibi, which will offer a $5-per-month ad-supported tier and an $8-per-month ad-free option. With 20 million subscribers in five years, Quibi expects subscriptions to account for 59.5 percent of revenue; with 70 million subscribers in five years, subscriptions would drive 68.1 percent of the company's revenues.
Quibi's big pitch is that it can bring HBO-level talent and programming to mobile screens, which, in turn, will make the service attractive enough for people to subscribe. The company has already lined up star filmmakers such as Guillermo del Toro, Sam Raimi and Jason Blum to make programming for the service.
During a speaking session at a Variety conference this week, Katzenberg hedged against Quibi being compared to other short-form video platforms including YouTube and the now-defunct Go90. His argument is that Quibi will be spending more per-minute to create programming at a quality level that can't be supported by ads alone. He also described Quibi's "lighthouse" projects — the biggest pieces — as longer films that just happen to be cut into shorter-than-TV installments.
"We're not asking people to tell 10-minute stories; we're asking them to tell two- to four-hour stories," said Katzenberg. "We're not giving [filmmakers] some tight little box and asking them to produce, [we're] just giving them guardrails and saying 'experiment.'"
One challenge that Quibi faces is whether people want to watch HBO or Showtime-level programming — especially if it's scripted — on mobile screens. These types of shows typically require more attention and effort, said Paul Greenberg, CEO digital video consulting firm Butter Works and a former A+E Networks and CollegeHumor executive.
"Are people who want to a quick bite going to want something that may require a lot of attention or investment in learning new characters and plot, as opposed to a quick, self-contained video that's entertaining enough to watch on your mobile phone?" Greenberg said. "Serialized short-form can also be tricky because people don't typically watch videos on mobile in order — that's not how mobile video is consumed."
While the big-ticket shows will be the centerpiece of Quibi's programming strategy, the company also plans to buy non-serialized shows and other daily programming that's more traditionally suitable for mobile screens.
In Quibi's pitch deck, the company breaks down its content strategy into three buckets of a triangle:
The top: "super-premium" scripted and unscripted original series that would cost around $125,000 per minute (scripted) or $50,000 per minute (unscripted). This bucket includes some premium, non-serialized fare that could cost around $20,000 per minute.
The middle: "network, cable and digital partner exclusives" which would cost around $10,000 per minute.
The bottom: "daily essential" programming that would cost around $10,000 per minute and would focus on news and sports genres.
Examples of what some of this programming would look like is already beginning to take shape. Oscar-winning director Guillermo del Toro, for instance, is making what's described as a "modern zombie" story. In Quibi's pitch deck, the company offers examples of premium, non-serialized programming, including a show called "Inspired By" with Justin Timberlake, and "Under the Gun" with Kobe Bryant. Both celebrities have been reportedly in talks to produce shows for Quibi. Earlier this week, Whistle announced it's producing a basketball documentary series called "Benedict Men" in partnership with Stephen Curry. (Katzenberg's other venture, WndrCo, which has invested in Quibi, is an investor in Whistle.)
For the middle tier, Quibi is focusing on familiar programming brands with existing fanbases, including shows such as "Saturday Night Live," cable networks such as Food Network and Animal Planet and magazine brands such as Vogue and Elle.
A majority of Quibi's content budget will still go toward its super-premium programming. In the aforementioned base case, $370 million of the first year's $600 million content budget would go toward roughly 35 scripted and unscripted series. Premium, non-serialized programming would capture another $117 million of that budget, with $57 million left for middle tier exclusive programming and $56 million for daily news and sports content.
Of course, these are proposed budgets. At the Variety conference, Katzenberg himself said that Quibi's willing to pay up to $6 million per hour if the project is right.
A longtime Hollywood producer, Katzenberg is also offering attractive deal terms to production partners. Quibi is willing to pay the entire cost of the shows, plus a 20 percent margin on top, Katzenberg said on stage. Quibi will license the programming for seven years, after which the rights would revert back to the producer. Quibi's exclusive license is only for the short version of the programming; after two years, producers can repackage the programming into long-form versions (anything that's over 21 minutes per episode) and license those to other distributors, Katzenberg said. "The value for the studios and the creators is significant."
Quibi has raised $1 billion from a group of investors that include all of the major Hollywood media companies: Disney, Fox, WarnerMedia, Viacom and NBCUniversal. Top studios such as Sony, Lionsgate, MGM and Entertainment One are also investors. These companies also have commercial deals with Quibi, which means they will be producing content for the service — which essentially pays themselves back on their investments.
"This is common in strategic business development deal: when strategics make an investment, they can help accelerate the success of that company by participating in a commercial way as well," said Chris Erwin, co-founder of media advisory firm Doing Work As. "Katzenberg knows Hollywood and there's a lot of meat behind saying that he has Fox, NBCUniversal, Disney and others behind him. That helps build marketplace confidence because you don't want to be the person left out of the dinner party if this thing takes off."
Subscribe to the Digiday Video Briefing: A weekly email with news, quotes and stats around the modernization of video, TV and entertainment. 
Tim Peterson contributed reporting to this piece.
https://digiday.com/?p=314786
This week's Future of TV Briefing looks at how this year's upfront and recent announcements from AMC Networks and Paramount indicate the progression of programmatic in the TV and streaming ad market.
This week's Future of TV Briefing looks at how major streaming service owners' subscription business fared in the third quarter of 2023.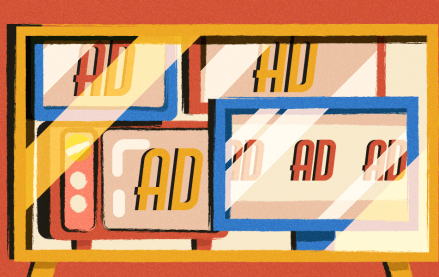 This week's Future of TV Briefing looks at what TV and streaming companies' latest quarterly earnings reports indicate about the state of the TV advertising market.