research
Most marketers say the greatest benefit of having an in-house agency is having greater control over their marketing according to 214 marketers.
rundown
News that the company is now sending free samples to customers is seen as yet another growth feature in its fast-growing ad business.
Subscribe to Digiday+ Membership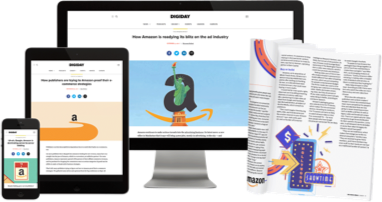 Digiday+ gives you an inside look at how digital is transforming the world of media. Join a growing list of industry executives who've made the decision to gain an edge, make smarter decisions, and connect with the people who matter.
Digiday Magazine
Those in media and marketing are no strangers to drastic changes, but 2018 brought much more of it than expected. After years of lead-up, many things finally came to a head. In this issue of Digiday Magazine we explore what the year ahead may bring, and lay out the industry's agenda for 2019.
Upcoming Digiday+ Events
February 7
2019
Thursday, February 7 at 5:30 pm E.T. - Digiday+ members are invited to take part in a live edition of the Digiday Podcast in New York, where Digiday editor-in-chief Brian Morrissey will host a conversation with Melissa Bell, publisher of Vox Media and co-founder of Vox.com.
New York, NY