Will Consumers Pay for Branded Content?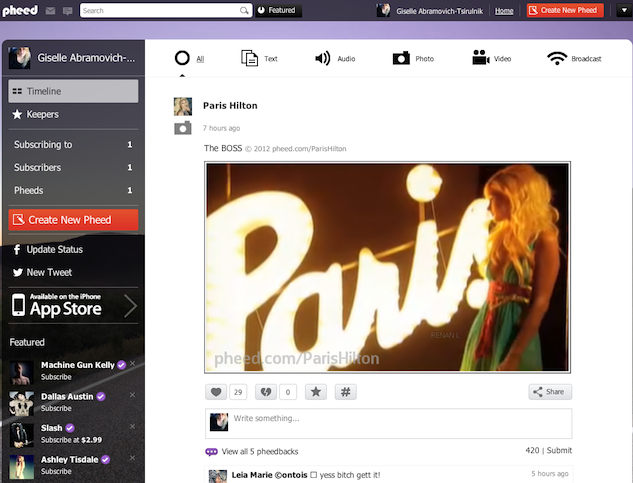 A new social platform, Pheed, which allows users to share text, photo, audio, video, and live broadcast content and charge other "pheeders" to view it, has grown to more than 1 million users since its launch in August. That's an opportunity for brands.
Never heard of Pheed? Well, it's the newest social platform to join the race and it has already caught the attention of celebrities like David Guetta, Miley Cyrus and Paris Hilton, along with the blogging community. Users have an option of sharing for free or charging either a monthly subscription or a pay-per-view model for their content. Pheed takes half of the money.
Already brands like Pepsi, General Electric and Macy's have set up shop there. But they aren't creating "pheeds" yet. When Miley Cyrus created her own Pheed account, she added a piece of audio, which drove 10,000 people to the page in 30 seconds. At the time, Pheed had only about 350,000 users. There are obviously opportunities here. And brands are watching.
The question of course is will people pay to watch branded content. They could technically already get a whole slew of content for free from their favorite brands on Facebook, Twitter and YouTube.
"This is a tough one," said Carmen D'Acsendis, director of global marketing at Jack Daniel's. "As we have seen with music and other media, people have been conditioned to expect free. Countless media companies have tried to monetizing news and entertainment but failed. Success will depend on the quality and exclusivity of the content."
The content offered on Pheed would need to be somewhat of a different nature for people to be willing to pay for it. For example, I love Louis Vuitton. It's my favorite brand, by far. I'd pay to access a live stream of its exclusive fashion show.
"I do think Pheed offers something different," said Becky Dickinson, digital consultant at Creative Borders in her blog. "There are plenty of benefits to the monetizing option. Say you're a clothing brand, your subscribed users could have first insight to a new line of clothing before anyone else sees. If you're an information resource, extra information could be given to your subscribed users."
Interested in your view. Please feel free to comment below. 
https://digiday.com/?p=26338