The pharmacy business is a delicate ecosystem when it comes to digitizing. Since it's highly personal, retailers have to be mindful as they experiment with innovation in the space. The goal is to make people's lives easier, without intruding upon their privacy with technology.
For Walgreens and CVS (the latter recently expanded after acquiring all of Target's pharmacies), digitization is concentrated in mobile apps with a focus on sheer functionality. The smartphone, after all, is likely to be a customer's most personal piece of tech.
"The smartphone revolution means keeping things simple," said Adam Pellegrini, Walgreens' vp of digital health. "The consumer will not tolerate a complex experience."
CVS opened a digital innovation lab in Boston Thursday; Walgreens' digital arm is based in its innovation lab in Illinois. Both companies are constantly looking to improve the pharmacy experience while ensuring they keep the customers' needs front of mind. The digital strategies of each are actually similar in many ways, because in the world of pharmacies, you can't push too far. Privacy is a big concern for patients — especially considering Target's major data breach in late 2013, which didn't compromise personal medical records but did raise concerns.
"It's very easy to get enamored with the technology that we're working with,"said Brian Tilzer, CVS's chief digital officer. "But the question is always: 'What is the customer's pain point, and how can we solve it?'"
Having the phone in your pocket connected to your pharmacy solves a lot of problems. After registering on mobile, pharmacy customers can refill and manage prescriptions and receive text alerts and pill reminders. (According to Pellegrini at Walgreens, medication adherence has largely increased with the app.)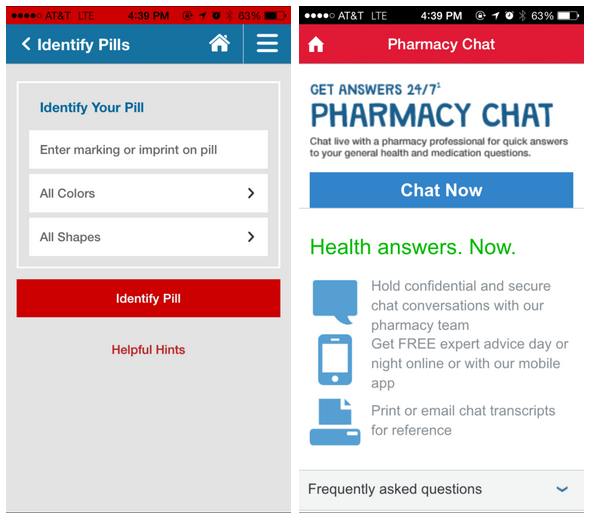 The different apps offer a lot of overlapping features, with some divergences. CVS offers an in-app guide to identifying pills and how they interact with one another; Walgreens has a live text chat with a pharmacist and a feature that schedules healthcare clinic and immunization appointments through mobile.
"Both companies have great opportunities here," said Eric Bader, CMO at RadiumOne. "Mobile enables a lot of what other channels couldn't. It's always with you, and it opens up ways to communicate."
That counts in stores as well. At CVS, beacon technology can remind logged-in users if they have prescriptions ready for pickup or in need of a refill, either for you or someone listed as a family member. Walgreens' app switches to in-store mode and can send you reminders for things like flu shots if you opt in.
Bader said he sees an opportunity for both companies to act on "good merchandising," a nudge to pick up Pedialyte along with that infant Tylenol, for example. But that toes the line between helpful and invasive, and each pharmacy is being careful not to overdo it.
"We're not fooling ourselves that digital can be thrown at every problem," Pellegrini said. "So we're careful and meticulous with what we prioritize. It's not about coming up with new and cool and flashy things."
CVS follows a similar rule of digital thumb.
"The work we're doing is cool, but our focus is on what's valuable, not what's cool," said Tilzer.
https://digiday.com/?p=122469