Restaurant apps battle to stay relevant with new loyalty, payment options
November 9, 2017 • 4 min read
Tearsheet's one-day "Hot Topic: Mobile Payments" event is coming up in NYC on Nov. 30, and we're opening up a few complimentary spots to executives from banks and other financial institutions to attend. Interested? Apply here.
In the past month, fast-food brands like McDonald's, Buffalo Wild Wings, Panera, Chick-fil-A and Domino's have updated their existing apps or introduced new ones with reward programs, faster payment options and delivery services.
Others, like Shake Shack and Domino's, are integrating their apps into their physical chains or popular social networks. Even traditional restaurants like Red Lobster and Texas Roadhouse are implementing their own in-app reward programs. Chipotle was one of the latest to update its app, adding a way to quickly reorder past orders, a rewards program and the ability to purchase meals through Apple or Android Pay on Nov. 6.
These brands say these endeavors are an effort to give consumers what they want — a faster, convenient way to place an order and reach consumers on their mobile devices, where they spend the most time interacting and engaging with others. But more important, the apps allow brands to collect their own data on consumers, as their delivery partners — services like Seamless, Grubhub, Postmates and DoorDash — possess the majority of market share for digital delivery.
The relationship between restaurants and delivery services is complicated, to say the least. Chipotle, for example, does not deliver itself, but it can be ordered through Postmates, Tapingo or Favor. Chipotle plans on adding four or five other services by the end of the year. By building out their apps, restaurants can retain some of the customer data they lose to the delivery services they work with in order to stay competitive.
"There's definitely a frenemy relationship that goes on where brands are working with these delivery services, but they're also hedging their bet by making sure they have their own fulfillment network in place," said Ben Zeidler, director of consumer goods research at L2.
Most delivery services do not provide brands with the data they need to understand customer intention or preferences, unless there's a specific arrangement between a brand and a service to do so. Curt Garner, chief digital and information officer at Chipotle, said Chipotle receives data around sales, transactions, timing and orders from its delivery partners, but not customer data.
Most of these brands are planning on using their app data to track purchase patterns and build customer profiles they can use to target individuals with personalized offers. Chipotle plans on using its updated app to understand what it can offer that would "surprise and delight" consumers, said Garner. "As a data play, it makes a lot of sense because you're controlling that consumer experience, and you're doing it in a way where consumers want to interact with you," he said.
Apps may seem like the wrong move to build consumer profiles. Today, most people don't keep many apps on their smartphones. App Annie's 2017 report on app usage found that a person will use 30 apps a month and open nine daily, but the majority are social media apps or apps that come installed on the device like Safari.
However, brands like Red Lobster and Chipotle have already seen success from their app updates. With Red Lobster's in-app reward program, for example, the brand found that 75 percent of the people who downloaded the app used it to scan a receipt, and 25 percent redeemed points two or more times. Although he wouldn't reveal specific numbers, Garner said Chipotle orders are increasingly coming from mobile devices.
Food brands likely won't stop working with delivery services. Essentially, they are opting to have a piece of the pie rather than leftover crumbs. The truth is that delivery services possess the majority of market share in the delivery space. Grubhub alone takes up 23 percent of market share, second only to Domino's by 1 percentage point, according to 2016 Morgan Stanley data.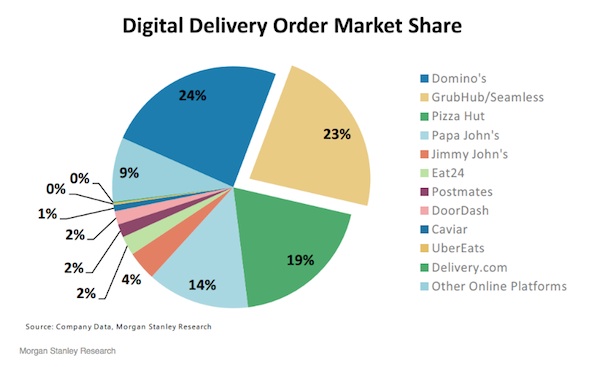 What's more, new delivery services are popping up all the time. Small-scale services such as Waitr and The House concentrate on smaller cities that the Grubhubs of the world don't reach. Tech companies have ventured into delivery as well, with offerings like Amazon Restaurants, Facebook's new Order Food feature and UberEats allowing brands to reach consumers in other places where they spend most of their time. Chipotle, Five Guys, Jack in the Box, Papa John's, Wingstop, Panera Bread, TGI Fridays, Denny's, El Pollo Loco and Jimmy John's are among the first to offer ordering straight through their Facebook profile pages.
Zeidler said delivery services owe their success to indecisive customers and the power of online search. In L2's October Digital IQ Index study of the restaurants sector, the firm found that unbranded search terms, such as "restaurants near me," saw around 50,000 more online searches than brand search terms such as "Papa John's."
"There is an undecided consumer out there. That's why they're going to Seamless in the first place," he said. "They don't know what they want to order. Brands can look at that as an opportunity, and they can look at it as a sign of potential slowdown." The brands that are updating their apps are trying to make the most of this situation.
https://digiday.com/?p=262308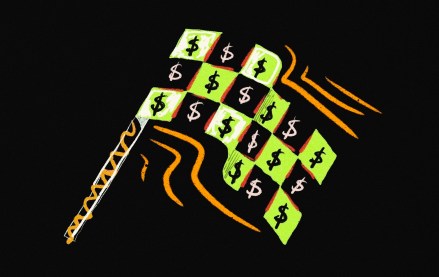 September 26, 2023 • 3 min read
With three Grand Prix races in the U.S. this year – Miami this past May, Austin in October and Las Vegas in November – the interest from U.S. marketers in Formula One has increased this year, according to agency executives, who say they expect that growth to continue next year.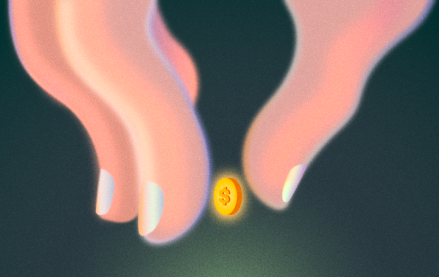 September 26, 2023 • 6 min read
A Digiday+ Research survey found that brands and retailers report using Facebook less over the last few years, all while the platform's value to their revenues and brands has increased.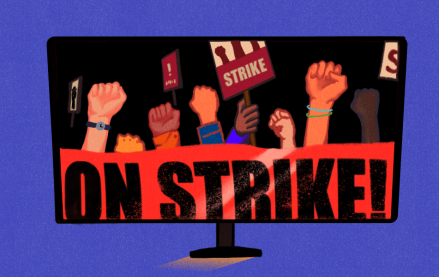 September 26, 2023 • 5 min read
The timeline for a return to business as usual – whatever that may mean now – is yet to be determined.