Download the Digiday+ Sample Pack
Digiday+ helps today's leading media and marketing innovators get ahead by giving them an inside look at how digital is transforming the industry. Interested in joining this growing list of people who've made the decision to gain an edge, make smarter decisions, and form meaningful industry connections?
Submit this form to receive an email with a sample of the premium content and exclusive features Digiday+ subscribers have access to and find out if joining is right for you and your team. This sample pack includes the following member-only content:
Digital access to a portion of a recent issue of Digiday magazine
A downloadable Event Briefing from our recent Programmatic Marketing Summit
Original research on which platform publishers rate as the best
Highlights from our recent Slack Town Hall discussions with Jason Kint
And more!
By submitting this form, you are allowing Digiday to store and use your data to keep you up to date on Digiday+, top stories, events, and other programs. As stated in our privacy policy, we won't share your data unless you explicitly provide permission.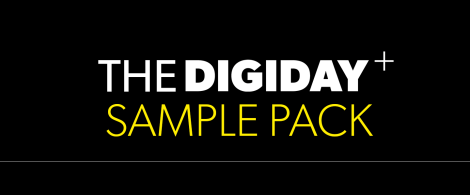 Oops! We could not locate your form.