LinkedIn is the latest platform to cast its lot with native ads. Unlike Facebook, Twitter and Tumblr, which have always rejected standard banner advertising, LinkedIn has made a mint off it.
LinkedIn isn't giving up on the banner. Instead, it's giving the thousands of corporations on its platform the ability to promote their content to LinkedIn's 225 million members. This is a standard page from the social platform playbook. Get companies on a platform and finding value from it, then offer them a way to use ads to make that activity more visible (and hopefully more valuable).
The key here is that LinkedIn has been able to lure corporations to spend more time on its platform. The site used to be known mostly as a recruiting site, but it's focused on evolving into something far more interesting. It added a Facebook-like news feed and in the past year, complemented that by publishing first-person pieces from business heavyweights like Richard Branson. According to comScore, LinkedIn saw 50.6 million U.S. uniques in June.
"Content marketing has become big for marketers," said Alison Engel, senior director of global marketing for LinkedIn's marketing solutions business. "We felt the opportunity for those professionals coming to LinkedIn for relevant content, and help brands distribute content, it's a strong match."
The "sponsored updates" units are sold on a cost-per-click or CPM basis. Engel wouldn't disclose pricing. In order to use the ads, a brand needs to have a company page and a business account in LinkedIn's self-serve online tool. There, the brand can manage and see options for targeting and select which content it wants to sponsor.
Nissan is one of the first brands to buy a LinkedIn ad. The auto company says it hopes to drive home a brand message of innovation and excitement.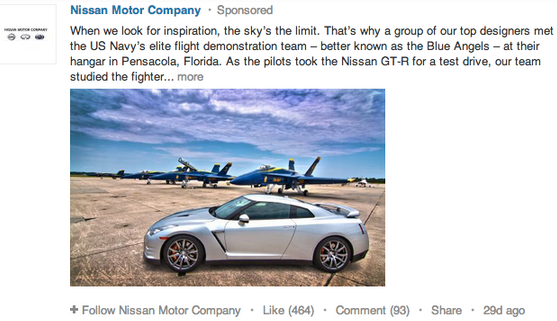 "We're specifically reaching influencers who find interesting information in slightly different ways than traditional advertising," said DeLu Jackson, global digital leader at Nissan. "This is more about content marketing and presenting interesting facts and information that supports traditional branding on the platform."
But for LinkedIn to succeed with big brands like Nissan, it has to prove it's worth its while. There it's got some work to do. Consider that on LinkedIn, Nissan has 54,000 followers, a drop in the bucket compared to the 6.5 million it has on Facebook. On LinkedIn, Nissan posts once or twice a week, while it is posting daily to Facebook. Engagement numbers – likes, comments, etc. – tell a similar story: There's a lot more action on Facebook.
LinkedIn has the cushion of a far more diverse revenue stream than bigger platforms like Facebook and Twitter, which make nearly all their money from ads. In the first quarter, "marketing solutions" made up just 23 percent of LinkedIn's $324.7 million in revenue.
Brands already running LinkedIn sponsored update ads include Mercedes Benz, which is promoting its E-class, as well as Charles Schwab, Hubspot, Adobe, Wall Street Journal, Xerox and the Weinstein Company.
That's a great start, but LinkedIn still has a ways to go to prove that it can hold people's attention enough to be worth major investment of time (and money) by the biggest brands over the long haul.
Image via Shutterstock