The Atlantic Rolls Out New Weekly Digital Publication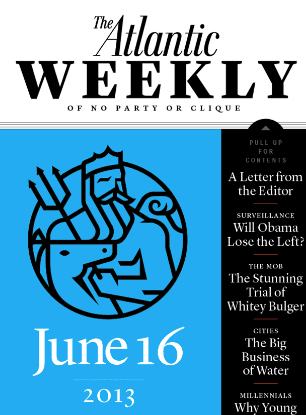 The Atlantic is rolling out today a paid weekly publication that looks to tap into the lean-back environment of today's mobile world.
Calling it "The Atlantic Weekly," the publication can currently be found in the iTunes Newsstand available for the iPad and iPhone. Other platforms, like Android, are coming soon. A single issue will run you $1.99, $2.99 for a monthly subscription, or $19.99 for a year's subscription. Issues come out on Fridays. As of now, this will not be ad supported.
Readers will find content that has already run across The Atlantic digital properties from that past week, like its photography site, In Focus, magazine archival content, as well as content from two other Atlantic digital-only properties, Atlantic Cities and Atlantic Wire.
The Atlantic wants to provide readers with a comprehensive alternative — for a price — to all the content that percolates the digital space. Put together by editor Geoffrey Gagnon, readers will be able to read what he considers to be the week's best content.
Last year, The Atlantic started selling e-books. It's parent company, The Atlantic Media Company, also started an in-house media consultancy last year to help brands navigate the digital terrain. And, of course, it's creating content for brands. 2012 marked the third straight year of profitability for the publication and saw digital ad revenue account for 59 percent of its total ad revenue. Digital ad revenue was up 32 percent last year over 2011. This is yet another way The Atlantic is trying to generate revenue.
Below is a letter from The Atlantic's editor-in-chief, James Bennett, about the new publication:
Letter from the Editor
During its first 90 years, The Atlantic featured its table of contents, rather than a photograph or illustration, on its cover. For this, our first weekly magazine, we've revived that tradition of simplicity—not for sentimental reasons, but because our founders' straightforward approach suits this new publication's mission and its medium. We're aiming to provide readers with a selection of stories and ideas on screens scrubbed of all distractions, for those moments over the weekend when you can pause to sit back, with an iPhone or iPad, and let your mind roam.
On any given day, we now publish dozens of stories across our three Web sites, TheAtlantic.com, The Atlantic Wire, and The Atlantic Cities. No one who doesn't work for The Atlantic can keep up with it all (many of us can't, either), and we suspect that even our most constant readers miss some of our best pieces. The purpose of The Atlantic Weekly is to collect that work into a weekend guide to how the world is changing, and to where that change might take us. In each issue on the iPad, we'll also include a story drawn from our 155-year-deep magazine archive, a piece of great writing that we believe can advance readers' thinking today, as it did when we first published it. (For this inaugural issue, we present Henry Thoreau's "Walking," which ran in The Atlantic in 1862.) We will publish each Friday afternoon so that you can download a new issue before signing off, as we hope you at least sometimes can, for the weekend.
We are asking readers to pay for this magazine. The reason is that we are putting work into it—by editors, designers, and developers—and at least for now we're not including any advertising. This is, for us, another experiment in putting to use any new means available to create and support the journalism of ideas that distinguishes The Atlantic. We hope you will value it.
—James Bennet, Editor in Chief