Wrought by the pressures of ad technology's dismembering the overall value of CPMs, publishers have started creating content for brands. We call this advertising content. While the idea is not new – publishers have had some kind of creative service for decades – there has been much talk in the last 18 months as publishers have increased their efforts to generate much needed revenue. But the trick is to not confuse the reader while also creating advertorial a reader will want to read or share.
The Internet adage "good content will find me" drives much of a publisher's advertising-content programs. The reasoning is simple: If the content is good, it doesn't matter if it's a piece of editorial or a piece of advertising. People aren't opposed to advertising content if it's clearly labeled and clearly good. For example, this Old Spice body wash video from 2010 has almost 46 million Youtube views.
Digiday looked at some recent pieces of advertising content to explore whether – and how – they succeed.
Publisher: The Atlantic
Advertiser: Sony
Type of content: Article and Video
Title: How Pixar Unlocks Imagination With Technology
In this piece, readers get a behind-the-scenes post about how Pixar staff uses new technology that makes them more efficient and allows them to tap into more creative aspects of digital animation filmmaking. There's a 45-second Sony TV pre-roll ad in front of a four-minute video about technology in animation, corresponding with the article. Sony created the content with The Atlantic's marketing team. This piece of content gives readers information about Pixar in an interesting and entertaining manner.
Publisher: Buzzfeed
Advertiser: State Farm
Type of Content: Listicle
Title: 10 Ways To Be An Amazing Neighbor
"Like a good neighbor, State Farm is there." We all know the tagline and jingle. Buzzfeed worked with the insurance company to create a list of common sense things we can do to be better neighbors. For instance, let your neighbors know you'll sign for their packages or organize a potluck dinner. This is a piece of advertising content that aligns with State Farm's brand message.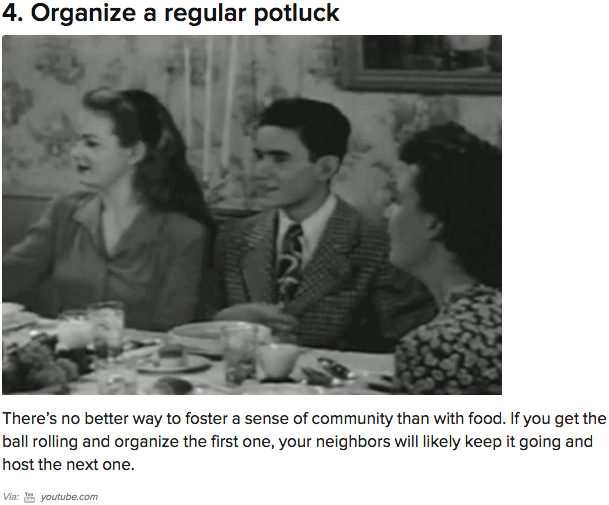 Publisher: Slate
Advertiser: GE Capital
Type of Content: Infographic
Title: INFOGRAPHIC: Cool Stuff You've Never Heard Of (But Won't Be Able to Live Without)
In May, Slate and GE teamed up for a pretty aggressive sponsored-content play. Instead of a typical piece of content, they decided to hit the road – literally. Slate and GE Capital rolled out on a 20-city, six-month road show to raise awareness of the middle-market businesses. Each day, content is uploaded to a Slate-built site called Roadshow.Slate.com. For example, this infographic puts a spotlight on novel and interesting gadgets, like an alarm clock that makes you wake up to logic puzzle games. Nothing like thinking to start your day!

Publisher: Quartz
Advertiser: Colloquy
Type of Content: Q&A
Title: Q&A with Google's Avinash Kaushik: Marketing without shouting
This is a Q&A between Google's digital marketing evangelist Avinash Kaushik and the sponsor, Colloquy. It looks and reads like a question-and-answer discussion between a source and a journalist, but it's an ad created by Colloquy. Quartz doesn't have a homepage, and the advertising content sits in between pieces of editorial content. Still, this piece of advertorial does offer readers helpful advice on how marketers can work in "conversational marketing" into their projects.