Change is in the air for SmartBrief. The online news aggregator has shown, as evidenced by its 6 million email subscribers, that email is still thriving. Further, it has proven that email was years ahead of two trends shaping the media industry today: aggregation and "native" advertising.
Now SmartBrief is poised to grow beyond email as its sole platform and is building out its site, tinkering with its app and delivering custom content to high-paying clients.
When the company launched in 1999, six years before The Huffington Post brought aggregation to the masses, the idea of culling professional and industry news for a niche audience wasn't exactly revolutionary. But SmartBrief's pitch was that it would save trade associations the hassle of producing their own, often crummy, newsletters.
"People hadn't been opening them because they're boring and they're talking about conferences," said Matt Mantey, svp of sales marketing SmartBrief. "So we come in and do it for free. Or, really, less-than, because we cut [them] in revenue when we do ads."
Today, SmartBrief produces about 180 daily email newsletters on behalf of 145 different industry associations, like the 4As, National Association of Women's Business Owners, American Diabetes Association and the Grocery Manufacturer's Association. And it lays claim to email open rates of nearly 25 percent.
"We live in a world of data overload. SmartBrief is a particularly helpful tool as it helps identify the news and information that is critical," said David Cohen, chief media officer at Universal McCann. "It is in a quick, easy-to-digest format and I look to SmartBrief as an important component of my daily content-consumption regimen."
SmartBrief makes most of its money from its "native" ads. The ads look like the text that's in a newsletter and aren't labeled as ads. The sponsor does splash its logo immediately to the left of the story, and SmartBrief doesn't link to the advertiser in the headline the way it does for news stories.
The company boasts an average 3-plus percent click-through rate for these, an impressive number in an age when banner click-through rates hover at .1 percent. Click-through rates for banners in the briefs, according to Mantey, are .75 percent. This is why SmartBrief sees CPMs of $50 and up.
"SmartBrief is a good buy for clients looking to communicate with a niche audience of business decision-makers, who are time-crunched but highly engaged with daily news for their profession," said Marla Theodore, associate director of media at DigitasLBi. "They have been able to build trust and authority in the marketplace by staying focused on approximately dozen key industries and developing various programmatic offerings."
In most cases, it's an 85:15 revenue share, with associations getting 15 percent. SmartBrief sells ads inside its daily newsletters in two ways. One way is a sponsorship model, which it calls "vertical selling." In this model, advertisers pay for the position and date in SmartBrief newsletters.
The other model works through targeting based on professional demographics. The company calls this "horizontal selling." It was introduced about four years ago after its subscription base and network grew big enough. SmartBrief, which collects considerable first-party demographic data, scaled its ad server to be able to deliver ads to people who match industry, title, position and company-size parameters.
SmartBrief has 16 outside sales reps and another 10 inside sellers for ad sales, all of whom focus on the sponsorship model. There are four sellers on the "horizontal selling" team that primarily focus on agencies.
But it all starts in Manila, where a team scours the Internet for content, culling roughly 75 stories for each newsletter. Editors from London to Los Angeles then whittle that list down to about a dozen articles and pair them with keywords.
From there, 40 full-time editors write new headlines and original 60-word summaries, and link back to the original piece of aggregated content. For example, this Reuters piece about the Men's Warehouse's new ad is distilled down to 66 words.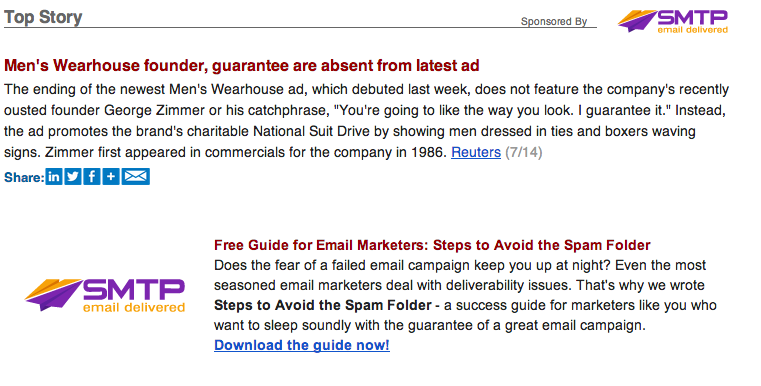 As the company evolves, it's experimenting with building out its own site, which allows the company to shape its briefs for the mobile world. Mantey added that this year, 10 percent of its revenue will be in "content marketing," as it produces custom pieces like white papers and blog posts for brands. For example, it created this piece (which sits on the SmartBrief site) for Prudential about what to look for in a fixed-income manager.
"We have work to do," Mantey said. "We recognize we need to be better in breaking free of our email roots – but not ditching them – and growing a bit in other areas."