Myspace is continuing on its mission to revive and reestablish itself as relevant and cool through brand partnerships. It's latest project is with late-night talkshow "Jimmy Kimmel Live!" and Bud Light.
Part of the "Jimmy Kimmel Live!" show is a concert series segment which showcases different live musical performances from a wide range of artists. The Myspace partnership will extend these live concerts to an online experience. Starting June 18, select artists on "Jimmy Kimmel Live!" will perform a special extended set in front of fans at the show's Hollywood Blvd Studio. Directly following the televised broadcast, each concert in the series will be livestreamed in HD on Myspace. Fans can go to a dedicated "Jimmy Kimmel Live!" hub on Myspace to watch the concert live. The entire performance series will also be archived and available on Myspace for later viewing. Bud Light is the exclusive sponsor of the first three summer concerts as part of its own "Music First" campaign.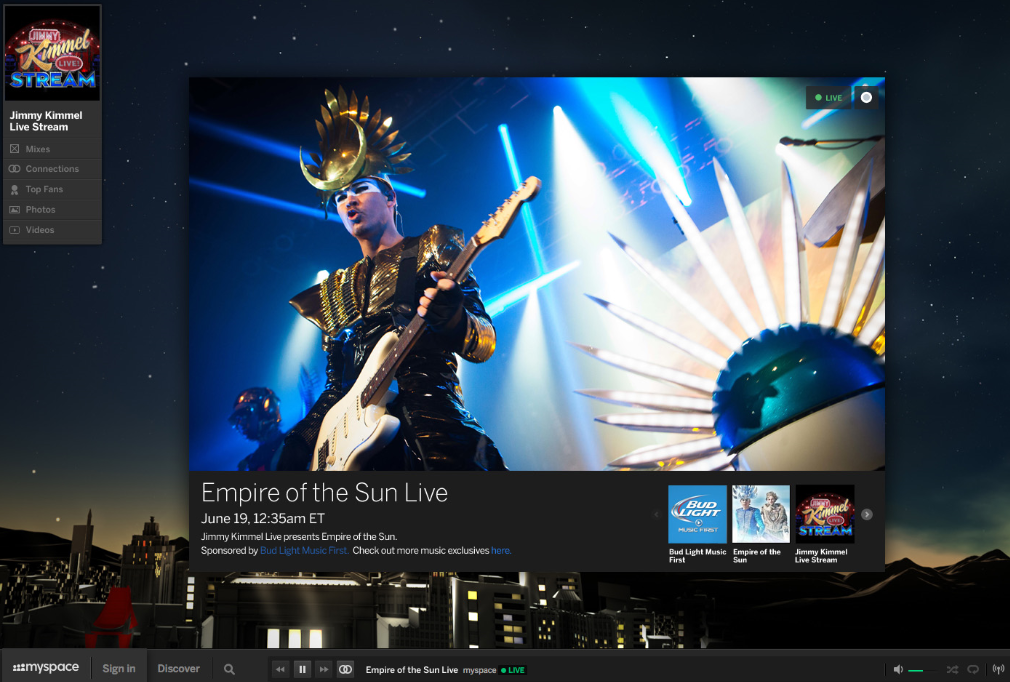 Australian dup Empire of the Sun will be the first artist featured in the series. This is the band's U.S. television debut and they will be debuting their first album in almost five years. Along with the performances in the series, Myspace will feature special content on the artists involved, like this article on Empire of the Sun.
This  concert series is just one of many brand partnerships Myspace hopes to create in order to showcase an eclectic mix of artists and to make itself relevant again. Myspace has already done branded projects with Chevrolet and Gucci.