Meet the Social Mouthpiece for Denny's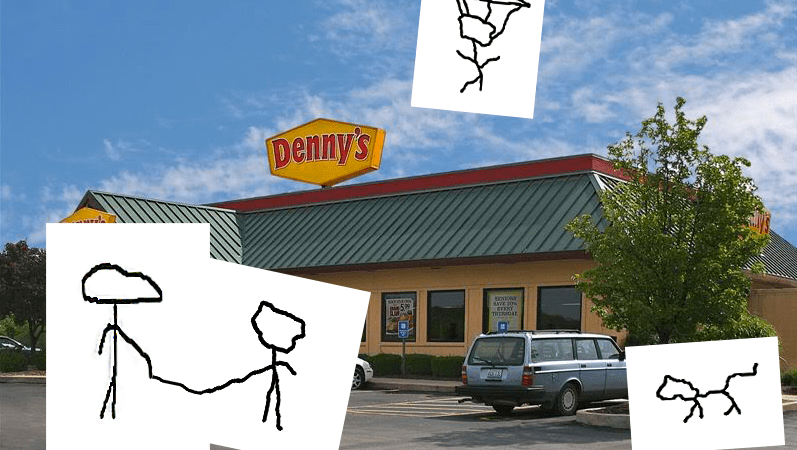 The conventional wisdom that companies should own their social accounts makes sense. They know their brand better than any agency can. Brands like Nike, Ford and Campbell's Soup all operate their social channels. Yet Denny's, the diner chain, has opted to hand the keys to its social media accounts — and thus its very online brand identity — to its agency, Erwin Penland.
The South Carolina agency has been working with Denny's for the past three years creating menus, merchandizing and local creatives. It took over the Denny's social account from Gotham, which operated Denny's social feeds for about three years, in August after there were creative changes at Gotham. Change at an agency is one of the biggest challenges for a brand to outsource its social capabilities. But according to Erik Jensen, director of advertising at Denny's, the benefit of having the agency run social outweighs the risks – even if the impact on the company's bottom line is tough to measure.
"We want to have that consistent voice and really great creative," Jensen said. "It's important to us that we really hit on engagement. We don't want a bunch of brand managers cranking out this product information. While we do sprinkle that in occasionally, we want to convey fun and give people content they want to receive. The agency does that."
Kevin Purcer, who heads up digital strategy at EP, said that while Denny's ceded control, he gives credit to the Denny's  marketing organization for embracing social. "It puts them a little bit at arms length away," he said. "But they have trust we're able to scale quicker if we need to produce content."
Purcer added that the benefits of working with an agency like his is that his team can respond more quickly because it is small and lean. There is one community manager serving up social content for Denny's. Purcer said that the company creates almost all of the content.
"When you take away friction in the content creation process, then you can respond quicker and do more fun things that you'd do if you were wrapped up in corporate marketing," Purcer said.
Take, for example, the diner's Tumblr blog. Denny's knows that Tumblr is a channel for original content and a younger, more fun audience. This allows for more creative, witty posts and interactions, like this back-and-forth between Denny's and Tumblr Centipede777  involving silly stick-figure drawings. The post got 14,200 notes.
"That stuff crushes it on Tumblr because it's done in the voice of the people on the platform," Purcer said. "If they misspell something in their comment, we'll come back and misspell it too. We're not going to try to be grammatically correct and all buttoned up. We adopt the mentality of behavior of the platform we're on."
The tone Purcer's team uses shifts between the various platforms. Whereas Tumblr is quirky, Facebook is more promotional-based and Twitter content is often in the moment comment, replying to its followers.
Denny's has a robust following on social. It has 40,000 followers on Twitter, 768,000 likes on Facebook and around 40,000 followers on Tumblr. Its competitor IHOP has 27,000 followers on Twitter and 3.2 million likes on Facebook.
Denny's was in the first batch of brands to run native ads on Tumblr. Jensen said that the company is still tracking results, but he's been pleased with using Tumblr as an important platform. Purcer did say that while Denny's isn't currently running any native ads, it's working with its media agency, Optimedia, to figure out 2014. Expect native and sponsored posts, he said.
For all the convenience of having someone else handle social for Denny's, though, it's unclear what the effect is on the bottom line, said Jensen. Trying to calculate "ROI is still something we struggle with."
"It's difficult for us to track it unless you're offering coupons online where you can see those routes," he added. "We look at brand-tracking metrics to determine how we're ranking in terms of brand perception."
Correction: A previous version stated that there were eight community managers who operate the Denny's social feeds. There is only one.