Colgate Helps You Tell People They've Got Food in Their Teeth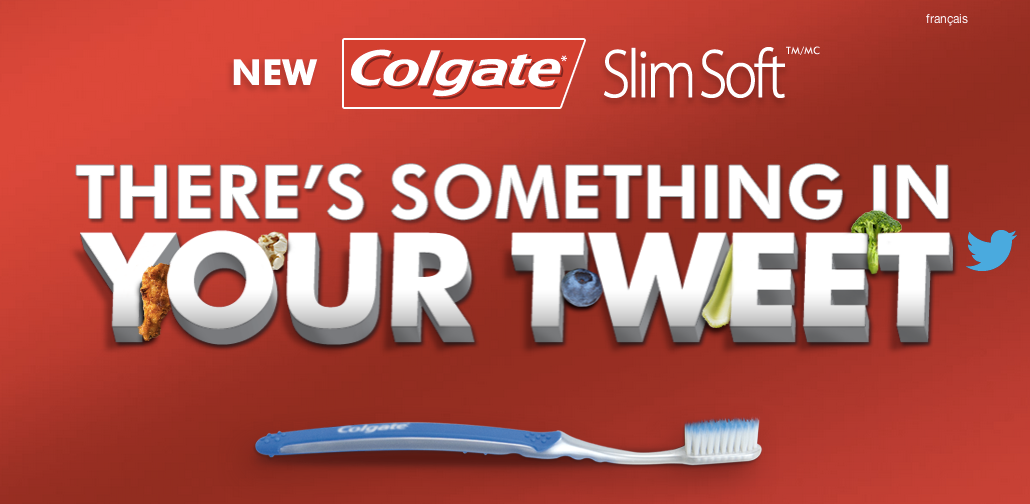 You know that moment when your dinner date gets a fleck of thyme in his teeth; or when you notice your colleague has some unidentifiable black speck between her incisors in the middle of a business lunch, and you just don't know if, or how, you should say something? We've all been there, and it's always awkward. Colgate Canada wants to spare you that mutual embarrassment with its latest campaign "There's Something in Your Tweet."
As part of its promotion for its new "SlimSoft" toothbrush, Colgate – with the help of Toronto-based agency Union – has created a special Web app that lets you send anonymous tips via Twitter or email to notify your friends that they have something stuck in their teeth.
All you have to do is visit the SlimSoft site, enter your friend's Twitter handle or email address, and Colgate ping them from the Colgate account politely notifying your friend about the food-in-teeth situation. You can even select what kind of food is stuck, whether it's a kernel of corn or a poppy seed, and Colgate will insert that in the message.
With each of these anonymous "there's something in your teeth" tweets, Colgate also includes a $1.00 off coupon for Colgate Slim Soft toothbrushes. Everyone wins. Try it out on your next first date.