Brands are supposed to use social media to show their human side, but apparently Bank of America – and the alleged humans that run its customer service Twitter feed – missed that memo.
When New Jersey dad Mark Hamilton wrote an anti-foreclosure message in chalk on the sidewalk in front of a Manhattan Bank of America branch, he was told to leave by cops. So he took to Twitter: "Just got chased away by #NYPD 4 'obstructing sidewalk'." he tweeted under his handle @darthmarkh.
What happened next underscored the world's third largest bank's (according to Forbes) utter lack of a grasp on how the social media platform works:
But wait, there's more.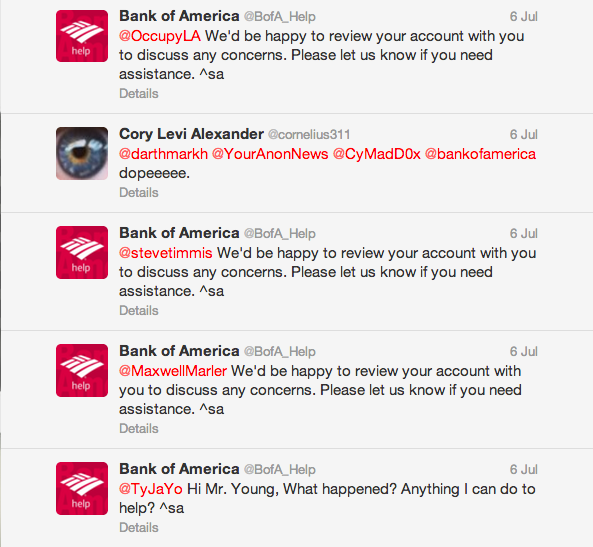 The immediate and understandable assumption was that the bank's Twitter feed is run by a bot – a program that automatically replies to tweets that mention it. Bafflingly, this turns out not to be the case. A bank spokesperson explained to Digiday that real people are, in fact, behind all of the brand's tweets.
"All of our interactions are personal and handled by a team of over 100 social-media servicing representatives," the bank wrote in a statement released to Digiday. "We respond to mentions of the bank to help identify underlying customer issues in addition to direct requests for help."
But in this instance, the bank was responding to activists' anger with vapid offers to help with their accounts. With its utter lack of online competence, Bank of America merely reinforced these angry tweeters' view of the company as a faceless, heartless conglomerate.
"Our social media servicing representatives have assisted thousands of customers though our Twitter service," the bank wrote in its email. With help like that, though, who needs enemies?
Image via Shutterstock