Have you checked into a hotel without speaking to a single person yet? Maybe order room service and book a massage at the spa without dialing a single number? If not, you will soon enough.
With mobile becoming more and more important for all brands, it's not surprising that the hospitality industry is taking advantage of mobile technology.
Beyond just booking stays, some hotel brands' apps are taking things up a notch and offering more mobile features, like full concierge services and all kinds of local information and deals.
"Today's guests expect to be able to use their smartphones to do almost everything," said George Corbin, senior vice president of digital, Marriott International. "They're more mobile than ever and consider technology to be a central part of their lifestyle. We want to change the way people travel at our hotels."
Check out these five hotel chains with useful mobile apps.
Marriott Hotels
Marriott Hotels app lets users check in to their hotel anytime after 4 pm the day before their arrival and can pick up their pre-programmed key-card at special expedited mobile check-in desks.  If guests arrive before their room is ready, the app will send them an automatic notification when their room is ready.
Conrad Hotels
The Conrad Concierge app from Hilton Worldwide acts as a full-service concierge, allowing users to do things like order room service, book hotel spa treatments, choose what kinds of bath amenities they want stocked in their bathrooms and arrange airport transportation.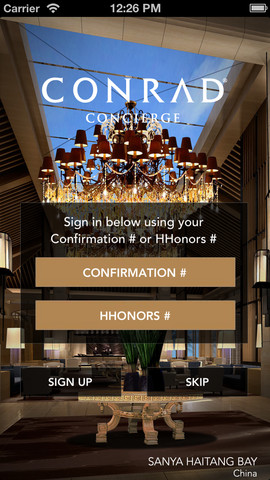 Mandarin Oriental 
Mandarin Oriental Hotels' app MO Hotels enables users to make and modify reservations, see property details for each of its locations using an interactive 3D globe view, and view local city guides. The app also shows local deals and offers mobile concierge service for things like booking hotel spa appointments and restaurant reservations.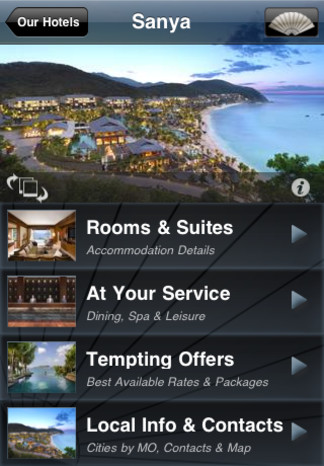 W Hotels
Along with the standard features of booking and concierge services, the W Hotels app has a bunch of other cool features, including a music streaming function that features mixes by emerging global DJs curated by W Hotels global music director, Michaelangelo L'Acqua. The app also lets users order anything they'd like to a guest room, even if they aren't a hotel guest themselves but would like to send something as a treat to a guest. There is also an image-sharing feature that lets users take photos and share them directly from the app.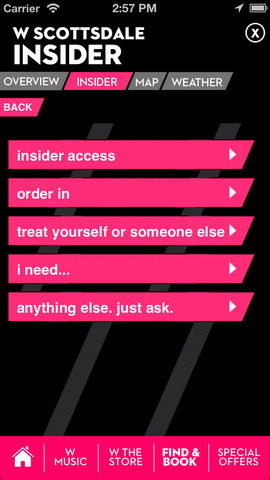 The Ritz-Carlton
The Ritz-Carlton's mobile app provides users with concierge services like booking reservations, local city guides, and special offers and events available at the hotel during their stay. Another interesting feature of the app is that it has a built-in QR code reader that guests can use around the hotel to unlock special digital experiences related to that particular hotel location.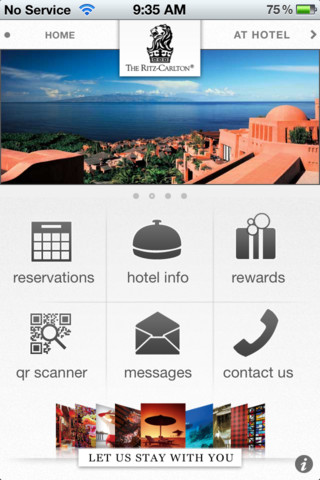 Image via Shutterstock