At the Digiday Programmatic Media Summit, we'll bring together hundreds of senior leaders in media to discuss the opportunities and challenges of programmatic in the new era of digital media.
Join us for three days of honest insights and new connections with an influential group of decision makers. We're currently programming an agenda. Leave your information below for updates on speakers, sessions, attendees and more.
INTERESTED?
Submit your information to be contacted about opportunities to sponsor, speak and attend this event and others like it.
Drive new business with Digiday Connect
Digiday Connect helps you get the most out of our summits by matching you with the perfect prospect. Use our new platform to get transparency into the budgets of buy-side attendees as well as a look at the solutions they're searching for.
Learn More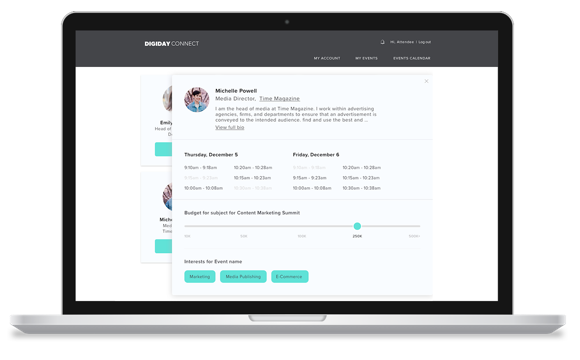 I returned to the office updated on the continual evolution of our programmatic business and with introductions to new partners that will help us grow audience and revenue.
— VP Revenue, National Media, Scripps
There were so many other people actually working on, and solving, problems that I care about. Easily the most substantive event that I've been to.
— Solutions Architect, Disney
A great opportunity to not just meet with current or potential clients, but also to discuss industry trends with other publishers.
— Director of Programmatic, DailyMail.com
Ritz-Carlton, New Orleans
921 Canal St
New Orleans, LA 70112

To book your stay at the Ritz-Carlton, New Orleans, please use this link.
If you would prefer to arrange your accommodations via phone, please call the Central Reservations line at (800) 826-8987 and use the code WPWWPWA for King accommodations or WPWWPWB for double to receive a special room rate of $269 per night, plus tax.
Please note: The cut-off date for that room rate is Friday, October 25 or when the room block fills.
Contact Us
More Information
For speaking opportunities:
Sponsorship Opportunities
For sponsorship opportunities
VIP Opportunities
Are you a publishing executive? You could be eligible for a complimentary VIP pass.
Digiday is committed to facilitating a welcoming and respectful environment for all. Please take a moment to review the Digiday Code of Conduct