At the Digiday Media Buying Summit, agency leaders will gather to discuss the makings of a modern media agency built for a new era.
Join us for three days of honest insights and new connections with an influential group of decision makers. We're currently programming an agenda. Leave your information below for updates on speakers, sessions, attendees and more.
INTERESTED?
Submit your information to be contacted about opportunities to sponsor, speak and attend this event and others like it.
Drive new business with Digiday Connect
Digiday Connect helps you get the most out of our summits by matching you with the perfect prospect. Use our new platform to get transparency into the budgets of buy-side attendees as well as a look at the solutions they're searching for.
Learn More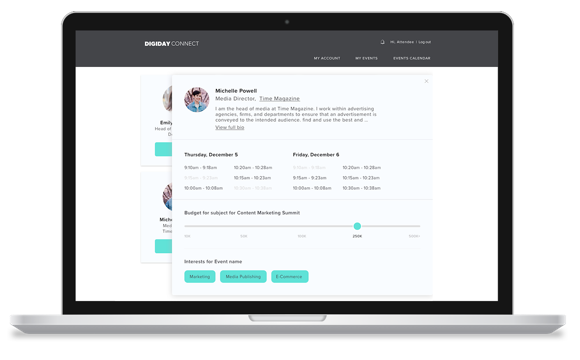 Want to get involved? Check out our sponsorship opportunities and pick the one that's right for you.
This event was an amazing opportunity to meet people in the industry who are challenging the media landscape and helping to shape the future of digital media.
— Media Director, Havas Media
It was so valuable to talk with other agencies about challenges they are experiencing and how they are approaching them.
— Partner, SGS Agency
Great experience to help open up all our eyes to some major challenges that we face in the industry and how to go about solving them.
— Senior Communications Strategist, Pereira & O'Dell
The Ritz-Carlton Key Biscayne, Miami
455 Grand Bay Dr.
Key Biscayne, Miami, Florida 33149

Contact Us
More Information
For Speaking Opportunities:
Sponsorship Opportunities
For Sponsorship Opportunities
VIP Opportunities
Are you an agency executive? You could be eligible for a complimentary VIP pass.
Digiday is committed to facilitating a welcoming and respectful environment for all. Please take a moment to review the Digiday Code of Conduct