Media buying has undergone an enormous shift. There are more channels, each with their own complications. New types of companies are transforming how brands are launched and marketed on various platforms. And the rise of new players in retail media has meant more complications. There's also increased competition -- across platforms, within agencies and with the rise of new in-house media buying teams.
At the Digiday Media Buying Summit, we'll discuss the makings of the modern media buying operation, from the ins and outs of brand safety, to what it takes to build in-house agencies. We'll also dive deep into current issues of trust and transparency, and explore how new technologies like AI will change the industry.
INTERESTED?
Submit your information to be contacted about opportunities to sponsor, speak and attend this event and others like it.
Drive new business with Digiday Connect
Digiday Connect helps you get the most out of our summits by matching you with the perfect prospect. Use our new platform to get transparency into the budgets of buy-side attendees as well as a look at the solutions they're searching for.
Learn More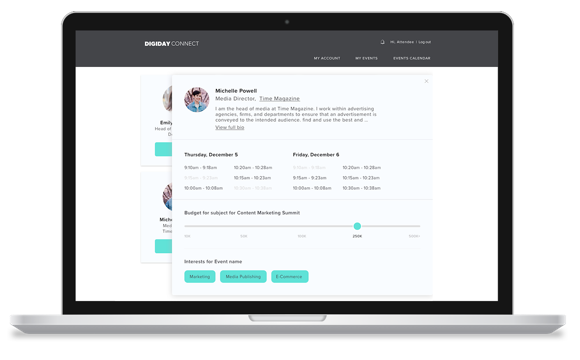 Speakers
Nancy Hall

SVP, PROGRAMMATIC, EAST

CADREON

Nick Pappas

FOUNDER

SWELLSHARK

Brittany Richter

SVP, HEAD OF PRODUCTS AND SERVICES

IPROSPECT

Fletcher Whitwell

PARTNER, CHIEF MEDIA AND PUBLISHING OFFICER

R&R PARTNERS
Want to get involved? Check out our sponsorship opportunities and pick the one that's right for you.
This event was an amazing opportunity to meet people in the industry who are challenging the media landscape and helping to shape the future of digital media.
— Media Director, Havas Media
It was so valuable to talk with other agencies about challenges they are experiencing and how they are approaching them.
— Partner, SGS Agency
Great experience to help open up all our eyes to some major challenges that we face in the industry and how to go about solving them.
— Senior Communications Strategist, Pereira & O'Dell
The Ritz-Carlton Key Biscayne, Miami
455 Grand Bay Dr.
Key Biscayne, Miami, Florida 33149

Contact Us
More Information
For Speaking Opportunities:
Sponsorship Opportunities
For Sponsorship Opportunities
VIP Opportunities
Are you an agency executive? You could be eligible for a complimentary VIP pass.
Digiday is committed to facilitating a welcoming and respectful environment for all. Please take a moment to review the Digiday Code of Conduct