The long road to control
For brand marketers, the most difficult thing about their jobs is how much they've changed. Over the past few years, the industry has undergone a seismic shift. The rise of direct-to-consumer brands has created new competition, and new ways of marketing. Platforms are growing in capabilities, but remain uncertain partners. And more companies are trying to do more themselves, insourcing certain agency capabilities and equipping their teams to do more.
Join us at the Digiday Brand Summit to discuss what it really takes to take back control: We'll talk about measurement, fraud, partnerships and frenemies, and hear from executives about their own challenges and opportunities as they build brands for the future.
INTERESTED?
Submit your information to be contacted about opportunities to sponsor, speak and attend this event and others like it.
Drive new business with Digiday Connect
Digiday Connect helps you get the most out of our summits by matching you with the perfect prospect. Use our new platform to get transparency into the budgets of buy-side attendees as well as a look at the solutions they're searching for.
Learn More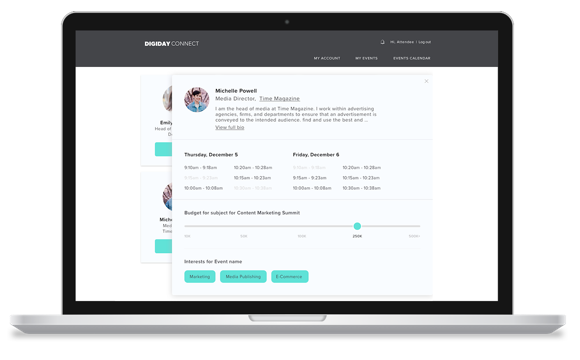 Speakers
Michael Fitzsimmons

VP, HEAD OF BRAND

WEWORK

Charles Gabriel

CHIEF REVENUE OFFICER

FIRST MEDIA

Jenna Lebel

VP BRAND, INTEGRATED MARKETING

LIBERTY MUTUAL

Billy Levy

CO-FOUNDER & PRESIDENT

SLANG

Peter Miller

CO-FOUNDER & CEO

SLANG

Jayne Peressini

SR DIR, GROWTH MARKETING

DRAFTKINGS

Eric Prock

BRAND STRATEGIST

MICROSOFT
Agenda
Monday, July 15
1:00 p.m.

2:00 p.m.

Town Hall

Brands only. 

Time to talk challenges. Join us for a discussion on the top challenges brand marketers are currently facing.

2:30 p.m.

Sandbox Presentation

These rapid-fire sessions introduce VIP brand executives to technology providers and agencies.

2:30 p.m. - First Media

2:40 p.m. - Webedia

2:50 p.m. - Social Native

Charles Gabriel

CHIEF REVENUE OFFICER

FIRST MEDIA

3:00 p.m.

Opening Remarks & State of the Industry

3:10 p.m.

Opening Keynote

The brand landscape is changing drastically. Hear from the head of marketing of a global legacy brand as they explore how their narrative has changed in line with the times, how they've gone about their digital transformation and all the initiatives they're testing to inject their brand with new life.

3:30 p.m.

3:45 p.m.

Owning Content In-House

Content production typically reserved for agencies is being wrested away and brought in-house, as brands invest long-term in their brand story. Hear why one company decided to start its own in-house content studio, and their roadmap to editorial success and more active customer engagement.

4:05 p.m.

4:20 p.m.

Riding the Algorithm Wave

These days, online platforms are undergoing endless seismic shifts - it can seem like brand executives are constantly playing catch-up with forces out of their control. Hear how one head of marketing is ensuring their team is organized so they're always on top of change, including how they're dealing with the GDPR fallout and how they're navigating the different platforms going into the future.

4:40 p.m.

4:55 p.m.

First to Market: What Innovative DTC Brands Know

The so-called disruptors of modern marketing and retail have learned the importance of acting on an opportunity versus reacting to competition. This session will focus on the importance of finding white space in the market and running with a big idea before crowding sets in.

5:15 p.m.

Working Group Meetings

Attendees will split off into groups focusing on one of three key challenges that brand marketers face. With guidance from group leaders, each group will meet throughout the summit to work together on a presentation that outlines how to solve the challenge at hand. These will be presented at the end of the summit.

5:45 p.m.

6:00 p.m.

8-Minute Meetings

By invitation only.

The 8-minute business meetings connect VIP brand marketers with innovative technology platforms, agencies and media companies. They are designed to help your team build valuable new relationships and ultimately, close business deals.

7:00 p.m.

First Media Cocktail Reception

Continue networking with cocktails provided by First Media.

Open to all. 

8:00 p.m.

Dinner with Strangers

Don't have dinner plans? Join fellow attendees for a casual meal at a nearby venue. Sign up at the Summit registration desk. Costs are at your own expense.

9:30 p.m.

After-Hours Hangout

Join fellow attendees for an after dinner drink. Costs at your own expense.
Tuesday, July 16
7:00 a.m.

8:00 a.m.

Registration Reopens & Breakfast Served

9:00 a.m.

Town Hall: Digiday+ Research

We've gathered research from participants on key issues around brand marketing. In this session, we'll have an honest discussion about these findings.

9:30 a.m.

10:00 a.m.

10:05 a.m.

Move Over, Millennials

Gen Z has arrived. We all want to reach them and marketers are scrambling to see how they can turn potential customers into lifelong brand evangelists. Hear how one leading company has captured the younger set and turned them into vocal advocates for their product and brand.

10:25 a.m.

State of the Industry with Kenshoo

10:35 a.m.

Keeping Your Influencer Marketing Transparent

Influencer marketing fraud is in the spotlight and the onus is on brands to make sure their use of influencers is airtight. With fake followers on the out and Twitter purging bots from their platform, brands must be cognizant to who exactly is representing their brand. Hear one brand exec share how they've overhauled their influencer marketing strategy and what the future will look like when building brand evangelists.

10:55 a.m.

11:10 a.m.

Growing Up Online

Many startups who have been heralded for their off-beat marketing strategies can't ride this wave forever - they have to grow up. Hear from the brand exec at one internet-darling about how they've scaled beyond their startup roots but still ensure their story never gets lost as they undergo rapid growth.

11:30 a.m.

11:40 p.m.

Making Your Employees Your Biggest Advocates

How can you make your internal organization a living, breathing manifestation of your mission? One marketing exec shares their secrets on how they made their employees their biggest advocates. Learn about purpose-driven brand building and how you can convey this from the inside-out.

12:00 p.m.

12:15 p.m.

Is Anybody Watching?

As platforms tweak their algorithms, viewability is at an all time low. The investment in the content you're creating is becoming increasingly difficult to justify and measure. One brand marketer explains how they get reliable eyeballs in front of their stories, and how they measure success is changing.

12:35 p.m.

1:45 p.m.

Afternoon Free Time

This is free time, so spend it as you see fit: catching up on work, relaxing or mingling with new friends. Enjoy the afternoon off and we'll see you back in the evening.

5:00 p.m.

Working Group Meetings

Groups will reconvene to discuss their challenges and with guidance from their group leaders, work to uncover potential solutions.

6:00 p.m.

8-Minute Meetings

By invitation only.

The 8-minute business meetings connect participants with innovative technology platforms and agency executives. They are designed to help your team build valuable new relationships and ultimately, close business deals.

7:00 p.m.

First Media Cocktail Reception

Continue networking with cocktails provided by First Media.

Open to all.

8:00 p.m.

Dinner with Friends

Join new friends for a casual meal at a local restaurant. Sign up at the Summit registration desk. Costs are at your own expense.

9:30 p.m.
Wednesday, July 17
9:00 a.m.

9:30 a.m.

9:35 a.m.

The Brand and the Agency

In-housing sounds great, but the reality of moving every marketing effort internal is a different story. Many brands must strike the balance between having complete ownership of their content and managing their relationship with creative agencies. Hear from one brand's head of marketing as they share what it took to shift parts of their marketing operation in-house, and what they leave to their agencies.

9:55 a.m.

Building and Maintaining a Loyal, Engaged Team

At a large multinational, how can you improve employee engagement and retention? Is the answer internal social networking? Hear how one marketing exec implemented an internal social networking platform to turn their employees into content creators and brand champions.

10:15 a.m.

10:30 a.m.

Brands with a Mission

It's 2019 and consumers are demanding that brands can no longer be apolitical. Customers are scrutinizing everything and so your brand's mission and purpose needs to be communicated at all touch points, big and small. In a post-#MeToo era, hear how one brand used their mission to engage new consumers during and after the movement.

10:50 a.m.

A Rebranding Roadmap: Make Our Brands Great Again

How do you revitalize a brand without losing customers? Hear from one marketing exec about how they avoided an identity crisis in the throes of change. Learn about the rationale behind the shift and what it took to rebuild their brand as one that embraces its past while ushering in the future.

11:10 a.m.

Working Group Reports

Working group leaders will present their group's findings after two days of discussion and deliberation.

11:30 a.m.

5 Things We've Learned

We'll summarize the event with the top themes that have emerged through three days of content.
Want to get involved? Check out our sponsorship opportunities and pick the one that's right for you.
The caliber of people and brands were fantastic. I left inspired and armed with some great insights that I brought back my team.
— Brand Director, The Bouqs Company
Great speakers and presentations, which are informative, approachable and engaging.
— Digital Marketing Manager, Petco
Great opportunity to network with brand teams facing similar challenges. So many insightful and engaging discussions.
— Digital Director, Stanley Black & Decker
Silverado Resort and Spa
1600 Atlas Peak Rd.
Napa, CA 94558
(707) 257-0200
To book your stay at the Silverado Resort & Spa, please use this link. Mention the Digiday Brand Summit to receive a special room rate of $279.00 per night, plus tax.
Please note: The cut-off date for that room rate is June 21st or whenever the room block fills.
Contact Us
More Information
For Speaking Opportunities:
Sponsorship Opportunities
For Sponsorship Opportunities
VIP Opportunities
Are you a brand marketing executive? You could be eligible for a VIP pass
Digiday is committed to facilitating a welcoming and respectful environment for all. Please take a moment to review the Digiday Code of Conduct