Starcom MediaVest Wins Big at the Digiday Mobi Awards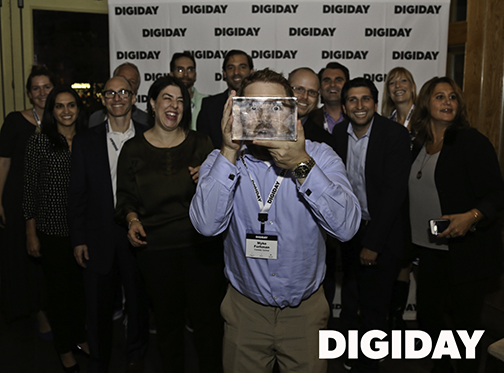 Starcom, MRY, and Huge were among agencies awarded last night at the 2013 Digiday Mobi Awards Gala, honoring overall excellence and breakthrough innovation in mobile media, marketing and advertising. Digiday awarded Circa as the top mobile innovator in honor of its pioneering efforts to construct a news organization for the mobile age.
Starcom won for their work on a campaign for the Samsung Galaxy Camera in the category of "Best Mobile/Social Campaign" and in the category of "Best iPad/Tablet Ad Campaign" for their partnership with Avis.
MRY also had a big year in their partnerships with Sony and Coca-Cola, particularly with the "Mix On" campaign with Coca-Cola, a finalist in both "Best Mobile/Social Integrated Campaign" and "Best iPad/Tablet Advertising Campaign." They took home the Mobi for their work with Sony Mobile on the Xperia "PhotoHopping" campaign.
R/GA was a finalist in two categories for its work with three brands: Ray-ban, Johnson & Johnson, and Nike. They got beat out by Purina Pro Plan in the "Best Mobile App for Branded Content" category, and by Huge in the "Best Mobile Website" category.
The "Best Mobile App for Editorial Content" finalists were The Boston Globe's iPhone app, USA TODAY's iPad app, and Comedy Central working with Roundarch Isobar on a stand-up app. Comedy Central  won, with enthusiasm, for their stand-up app.
The Digiday Mobis were presented last night at an event in New York City hosted at City Winery in Manhattan.
The 2013 Digiday Mobi Award winners are:
Best Mobile/Social Integrated Campaign 
Samsung Galaxy Camera: Starcom MediaVest Group with Spreading Jam
Best Location-Based Campaign 
Sony Mobile – Xperia "PhotoHopping": MRY
Best Mobile Branding Campaign 
Paranormal Activity 4: MEC and Paramount Pictures with MEC and Joule
Best Mobile Direct Response Campaign 
Sony Electronics: UM and Amazon
Best Integrated Mobile/Cross Media Campaign 
Britney Spears Fragrances: Elizabeth Arden with PHD
Best iPad/Tablet Advertising Campaign 
Avis: Starcom MediaVest Group with Spark and Leo Burnett Business
Best Mobile Creative 
The Travel Channel Layover Guide App: The Travel Channel with Rockfish
Best Mobile App for Editorial Content 
CC: Standup App: Comedy Central with Roundarch Isobar
Best Mobile App for Branded Content 
P5 Dog Training App from Purina Pro Plan: Purina Pro Plan with Zeus Jones, Checkmark, and Drivetrain Agency
Best Mobile App for Ecommerce/Retail 
REI & REI Snow Report for iPhone and Android: REI with Deloitte Digital
Best Mobile Website 
Gucci Mobile Website: Huge
Best Mobile Platform Innovation 
Bravo's Play Live Experience: Bravo & Emerging Media
Best Mobile Ad Network 
AdColony: Instant-Play HD Mobile Video Ad Network: AdColony