KLM wins Best in Show at the Digiday Content Marketing Awards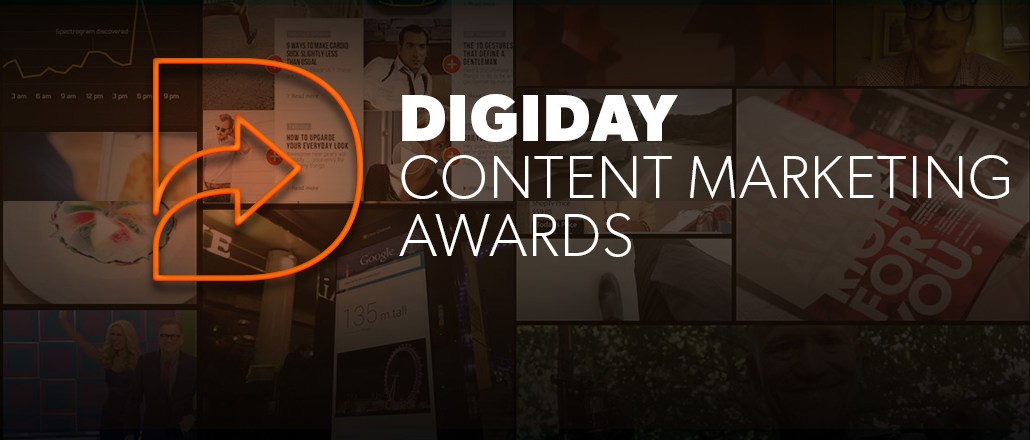 360i cleaned up at the second annual Digiday Content Marketing Awards this evening, taking home three awards for Best Content Marketing Agency, Best New Product Launch, and Best Use of Twitter. Royal Dutch Airlines took home the award for Best In Show for iFly KLM Magazine.
The awards brought together agencies and brands from across the United States and beyond for an evening of celebration and recognition for advancements made in the field of content marketing. Finalists gathered at the Highline Ballroom for drinks and dinner before the ceremony got underway at 8 p.m. EST.
Comedian Brian Dunkleman emcee'd the proceedings: "What does the new Chips Ahoy marketing director do her first day on the job?" he asked. "Enable cookies! Marketing humor sucks!"
The first win of the night was for Best Agency/Client Collaboration, which went to LA-based social media influencer agency Clever Girls and Western Union for the video series #WUHomeCooked. Western Union created a heartwarming video surprising individuals who have left their home country with reminders of home around the holiday season.
Royal Dutch Airlines' iFly KLM Magazine and their agency Born05 flew off into the sunset with their win for Best Brand Digital Magazine and Best in Show.
Next, Ferrara & Company for Ore-Ida French fries received a collective "Like" from the judges, winning the award for Best Brand Facebook.
XO Group made it official with a Best Brand Instagram win for The Knot.
Software company Autodesk won Best Brand Newsroom for Line//Shape//Space. Formerly a small-business blog, the Line//Shape//Space team embarked on a decidedly different path.The editorial now deeply explores design and the future of making things—from cities to buildings to products.
Las Vegas Convention and Visitors Authority gambled off their trophy for winning Best Brand Vine for their Watercooler Vine. No gossip was heard at the watercooler following the celebration.
Complex Magazine and Dr. Pepper jammed out when "One of a Kind Studio Sessions" won Best Branded Content Series.
Best Branded Content Site/Best Brand Blog went to VideoMind by Ooyala, which supplies the online video industry with valuable, actionable data concerning online video monetization and advertising.
Best Content Marketing Tech Platform went to LISNR, a high frequency, inaudible technology; a new communication protocol that sends data over audio. It is a digital sound file that turns any speaker or piece of media into a beacon, working seamlessly across physical and digital spaces more effectively than all current solutions in the marketplace, most notably Bluetooth and traditional ACR.
It was game, set, match for Sports Illustrated & IBM as they won Best Infographic for the Daily Data Visualization for the 2015 Australian Open.
The judges swiped right on the Ken Burns iPad App, which won Best Mobile Content Site. The app takes the user through Ken Burns' documentaries in bite-sized bits. Far more than a library of his films, it's a meticulously curated investigation of the most important themes in American history: Art, Race, War, Innovation, Hard Times and Politics.
Digital agency 360i and Oreo took home the trophy for Best New Product or Publication Launch for Oreo's Red Velvet Flavor cookie and the accompanying campaign, "Feel the Feelings." 360i continued its hot streak with a win for Best Content Marketing Agency.
AT&T and Forbes landed Best Print to Digital Content Integration for Forbes' annual "30 Under 30″ feature, highlighting the movers and shakers in media under the age of 30.
American Family Insurance and Mindshare slam-dunked Best Use of Content Repurposing for The Get to The Game. Basketball vignette series profiled 25 of the nation's top recruits, showcasing their dedication to academics, athletics, community and dreams of becoming a college/pro athlete.
Best Use of Native Advertising/Sponsored Content went to Backbone Media, Black Diamond, and POWDER Magazine for The Human Factor, a beautifully designed five-chapter multimedia story about decision-making in backcountry terrain.
The night got a sprinkling of fairy dust when Nomadic Agency and Walt Disney Resorts took home Best Use of Pinterest for Disney Vacation Planning Pins.
360i and HISTORY Channel came, saw, and conquered the Best Use of Twitter category for Vikings Hashtag Raids.
The award for Best Use of Video Content went to Weber Shandwick, which put their best paw forward in video content for #DogTales, a social media campaign in partnership with PEDIGREE.
Verizon won for Most Innovative or Creative Use of Content for #socialimprint, a physical textile pattern stitched together by social conversations surrounding fashion and music. Fans from all over the world contributed to the design by posting on Twitter, and the top trending topics in music corresponded to a color that was then used to create. Fashion designer Christian Siriano turned the conversations into fabric.
Duracell and Anomaly kept the night going when they won Most Innovative Use of New Social Platforms. Duracell's 'Longest Lasting Tournament' is a first-of-its kind 26-hour Madden tourney, hosted in partnership with television platform Twitch TV. The tournament challenged gamers across the country to beat their team of NFL pros and gaming legends for major prizes. The catch? Team Duracell members would play with only one set of our batteries, for the whole 26 hours.